25 AWESOME Content Marketing Tools [2022 Reviews]
by Brian Dean · Updated Nov. 09, 2021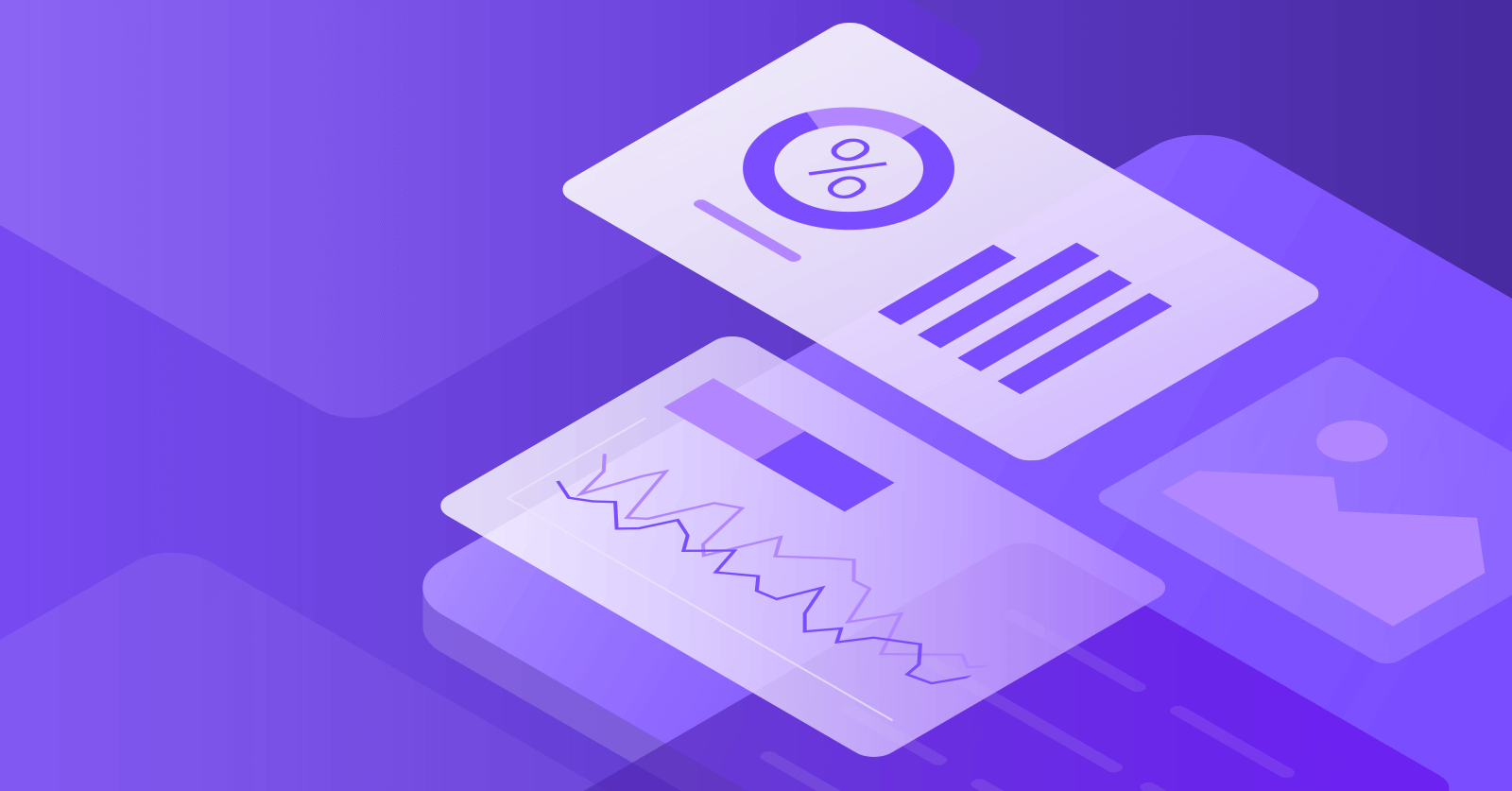 These are the 25 best content marketing tools for 2022.
In fact, I've used the tools on this list to grow my site's traffic to 664,814 visits per month (and growing):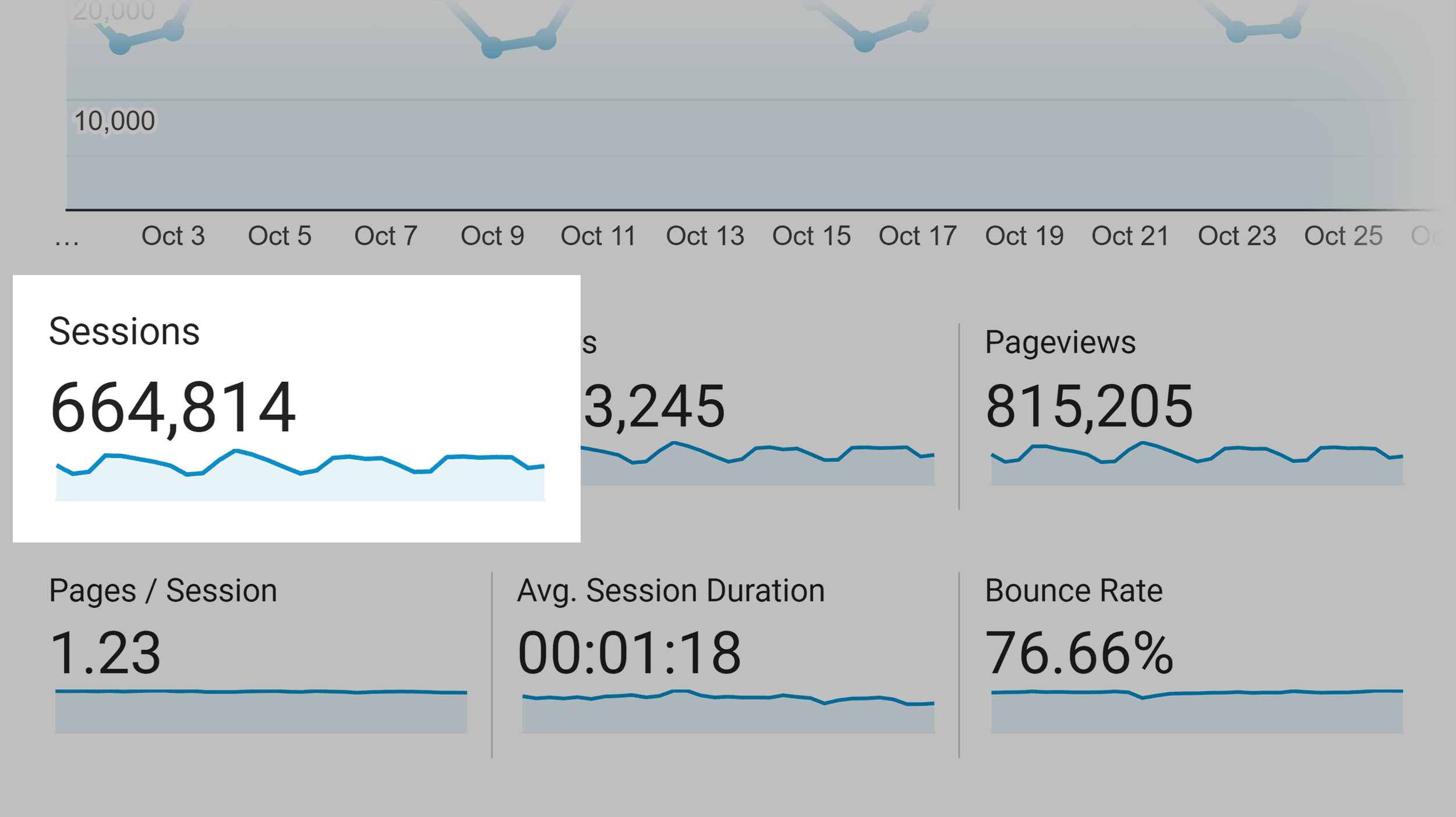 So if you want to get more traffic from your content, you'll love these awesome tools.
Let's dive right in.
25 Best Content Marketing Tools
Super high-quality free stock photos.
How do you get amazing images for your website… without spending a fortune on licensing fees?
Pexels.
Pexels is a collection of professional stock photos that are completely free.
The best part? You can easily find the images you need with their nifty search feature.
Very cool.
Pricing: Free
My Favorite Feature: "Explore"
"Explore" is a hand-curated list of images that are organized by topic. And it's a great way to discover images that you might not find with a keyword search.
For example, let's say you just wrote a blog post that lists the best places to visit in Thailand. Well, you can check out the "Travel The World" collection for high-res images of white sand beaches and palm trees.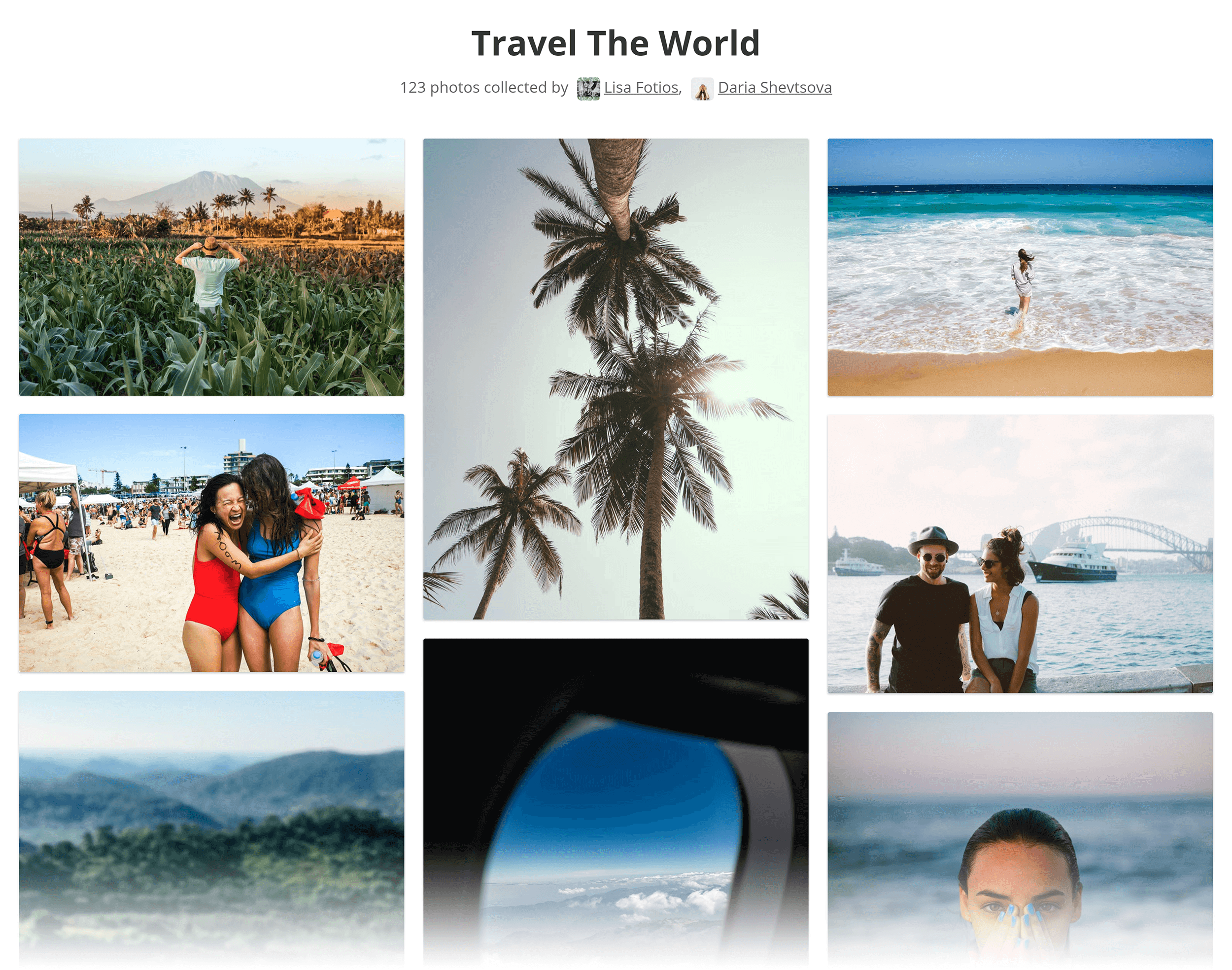 The Bottom Line
If you want world-class stock photos without having to spend a penny, Pexels is the first place you should go.
Find and answer your audience's burning questions.
Let's face it:
Coming up with blog post topic ideas is HARD.
That's why I'm PUMPED whenever I come across a tool that makes this process easier. And QuestionDB is exactly that: a simple tool that helps you quickly come up with dozens of blog post ideas.
To use it, enter a topic that you want to write about. And QuestionDB will scour the web for questions that people are asking about that topic.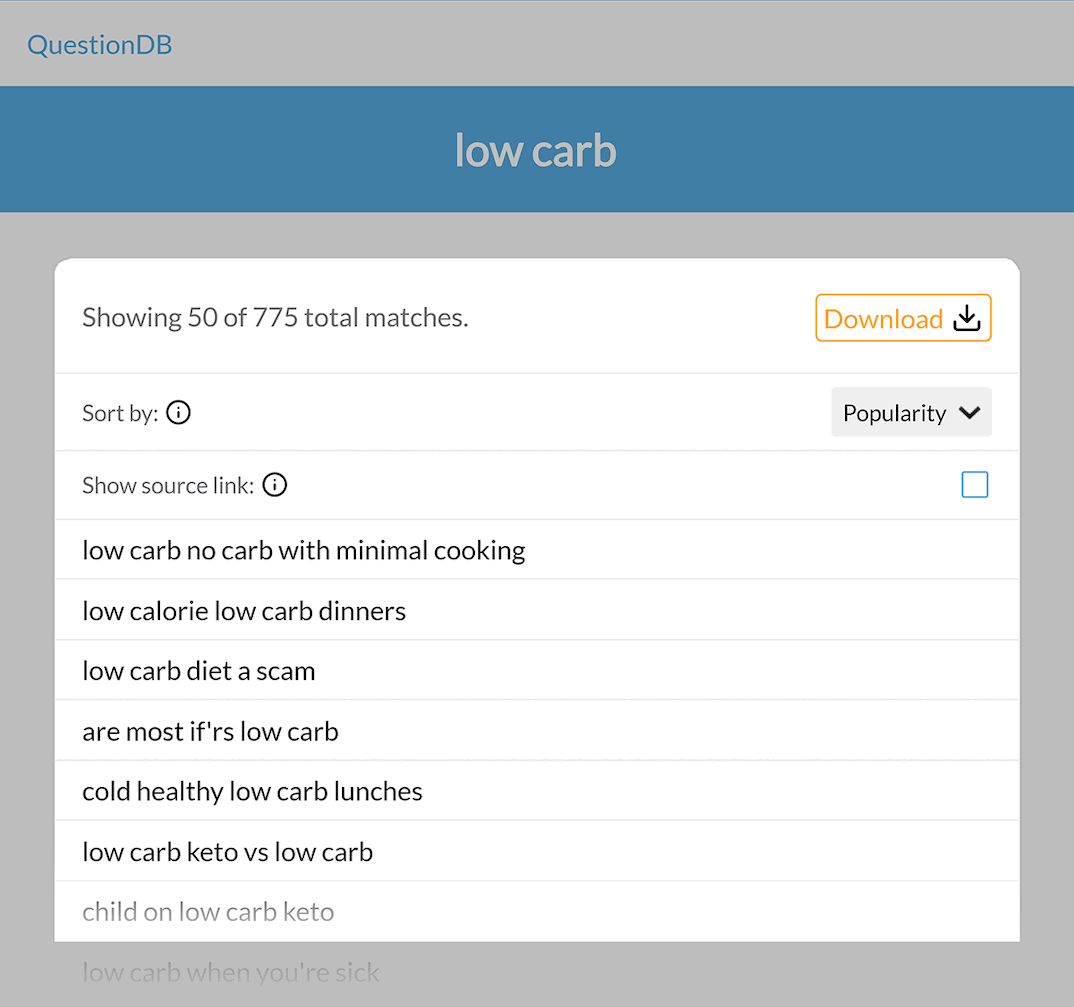 Pricing: Free or $10/month
My Favorite Feature: "Sort By"
By default, QuestionDB sorts questions by popularity (in other words: how often that question gets asked). That's helpful for sure.
But sometimes you want to get a high-level overview of what people want to know about a topic. Fortunately, you can sort by "Topic". This organizes the results into different categories.
The Bottom Line
QuestionDB has quickly become one of my favorite ways to find new blog post and YouTube video topic ideas. If your site focuses on question-based keywords, the $10 per month plan is totally worth it.
Advanced content marketing tool for pros.
From topic research to brand monitoring, BuzzSumo is an all-in-one content marketing toolkit that's packed with features: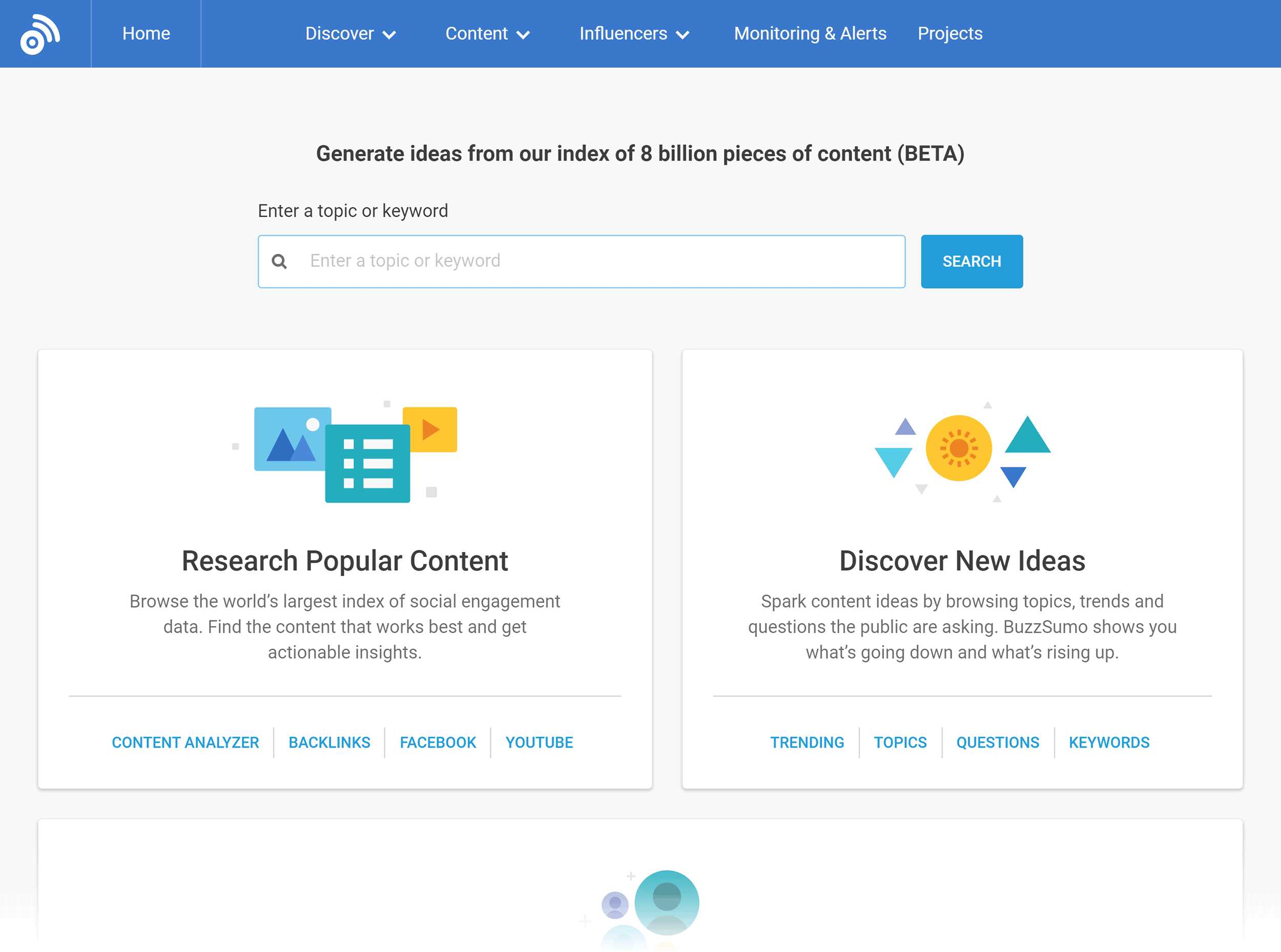 It's like a giant content marketing Swiss Army Knife.
That's not to say that BuzzSumo is confusing or hard to use. It's more that the features (and price point) are geared towards professional SEOs and content marketers.
Pricing: $79-$499 per month
My Favorite Feature: "Content Research"
I've had a BuzzSumo account since 2014. Back then, Content Research was their only feature. And despite adding dozens of features since then, it's the one I still use most often to help me with content creation.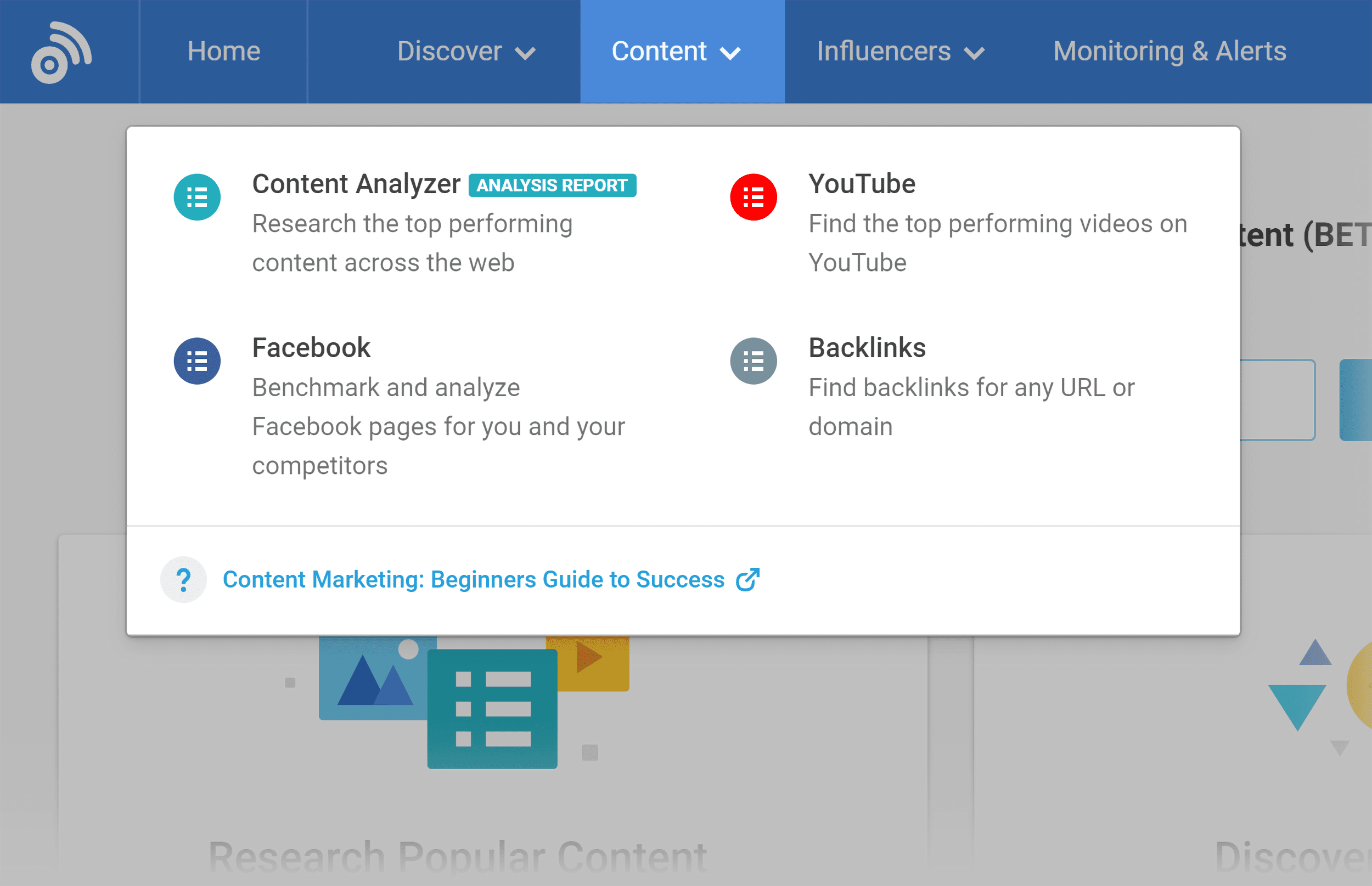 That's because it makes finding proven content topic ideas fast and easy.
The Bottom Line
If you're serious about SEO and content marketing, I highly recommend giving BuzzSumo a shot.
Hundreds of free HD stock videos.
Want an awesome clip to feature in your latest YouTube or Facebook video?
Thanks to Mixkit, there's no need to hire a camera crew. You can get access to about 100 HD videos for free.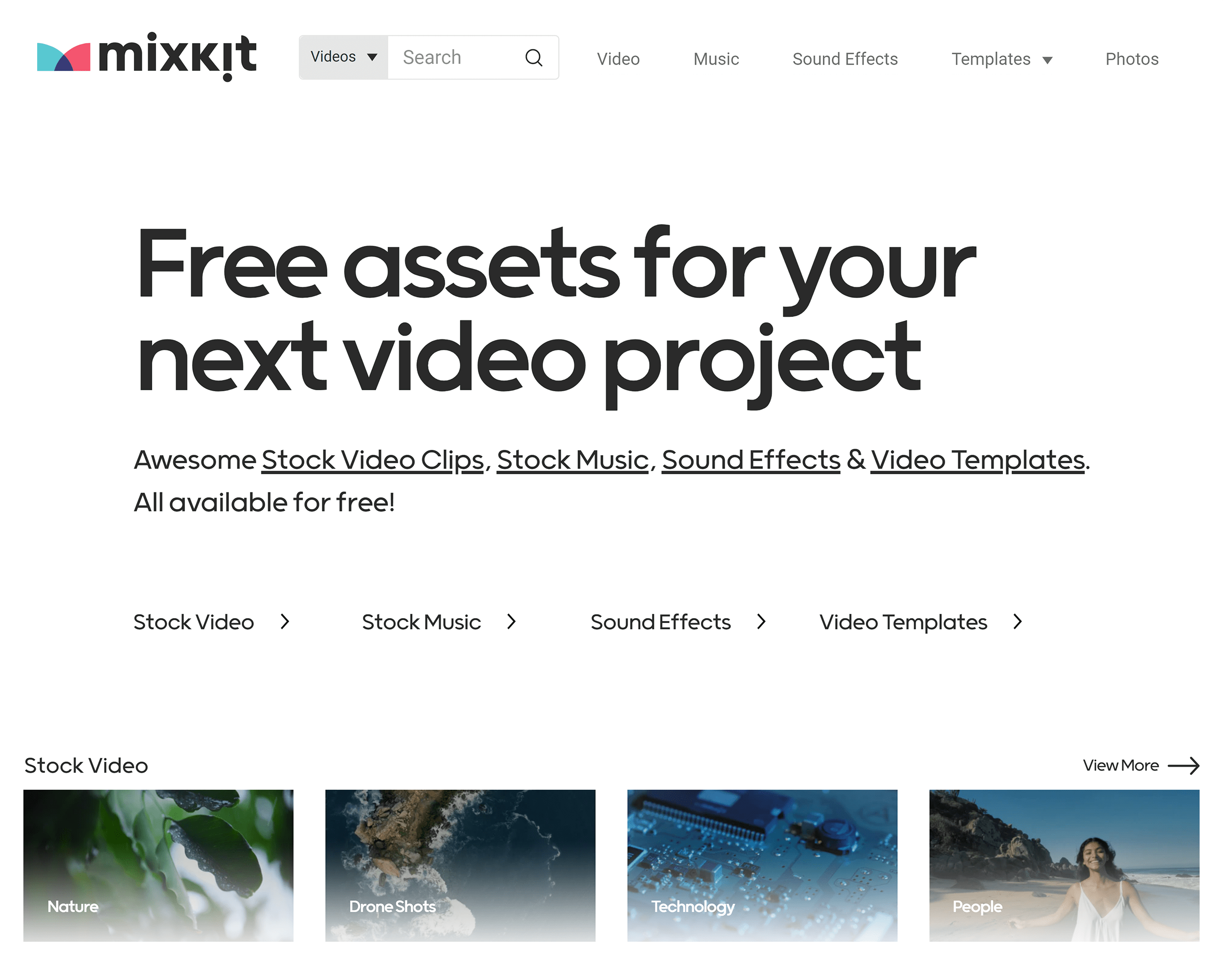 The best part? According to the website, they're adding about 10 new videos to the site every week.
Pricing: Free
My Favorite Feature: "Categories"
This is just like it sounds: a collection of videos organized into different categories. This makes it easy to find the video you want.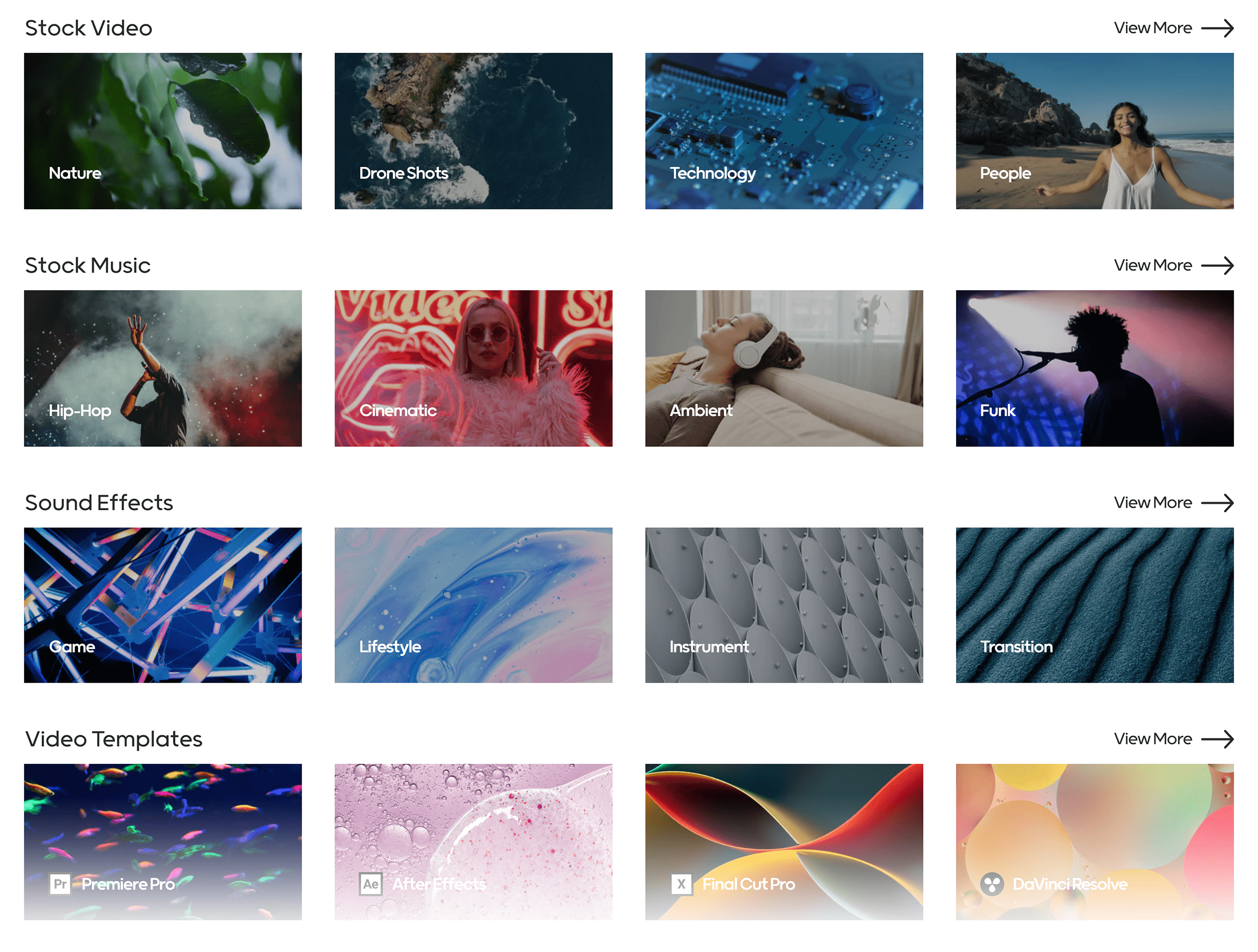 The Bottom Line
When I first heard about Mixkit, I was skeptical that the videos would be any good. But after watching about 20 of them I can confirm that they're all LEGIT high-quality stuff.
Improve your blog post and article headlines.
It's no secret that your headline is SUPER important.
But how do you know if your post's headline is actually good… before you publish it?
The Headline Analyzer.
CoSchedule Headline Analyzer scores your headline based on a bunch of different factors (like length and sentiment).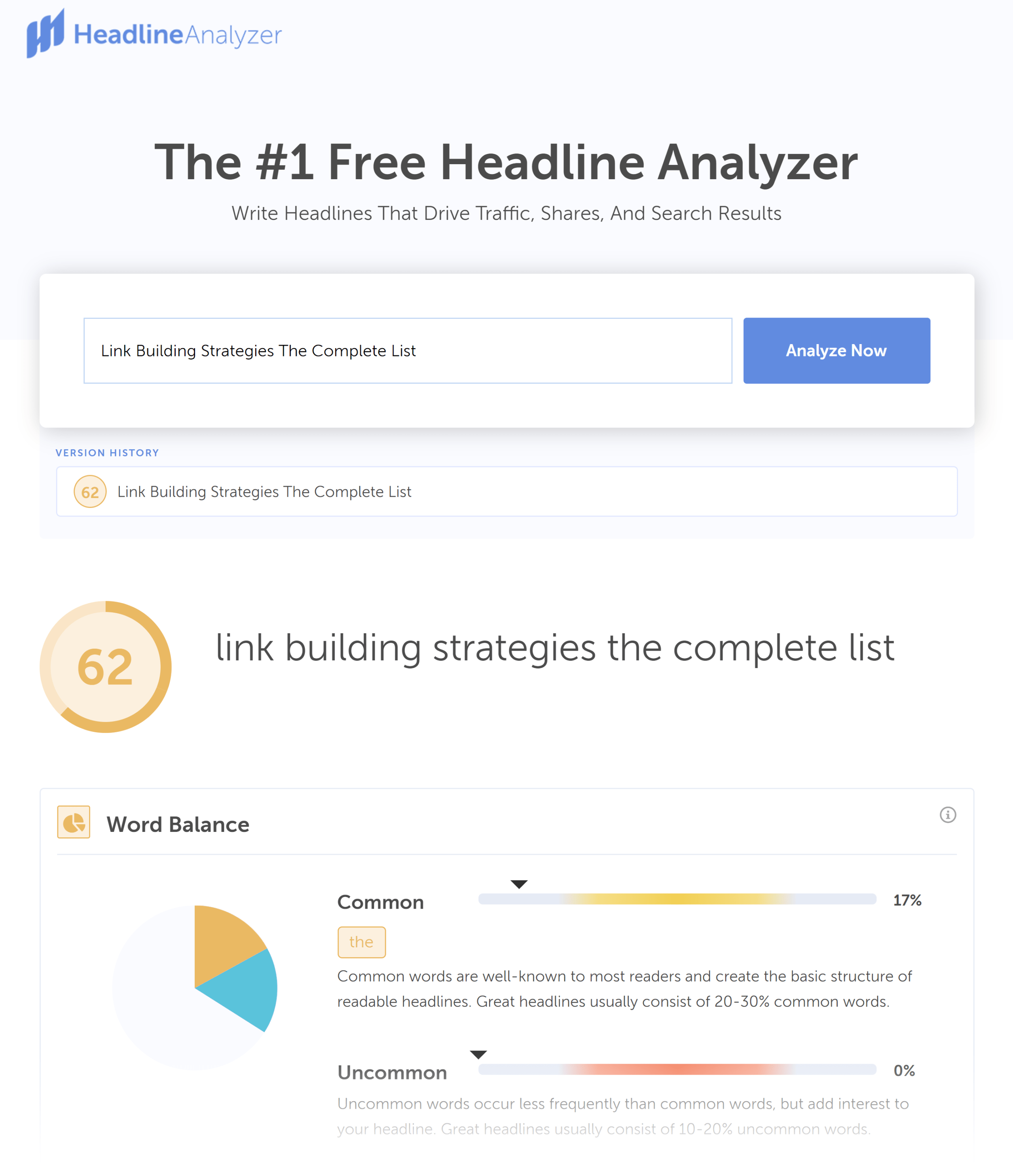 Helpful.
Pricing: Free
My Favorite Feature: Suggestions
Unlike most other headline analyzers I've tried, the CoSchedule tool gives you tons of actionable recommendations that you can use to make your headline even better.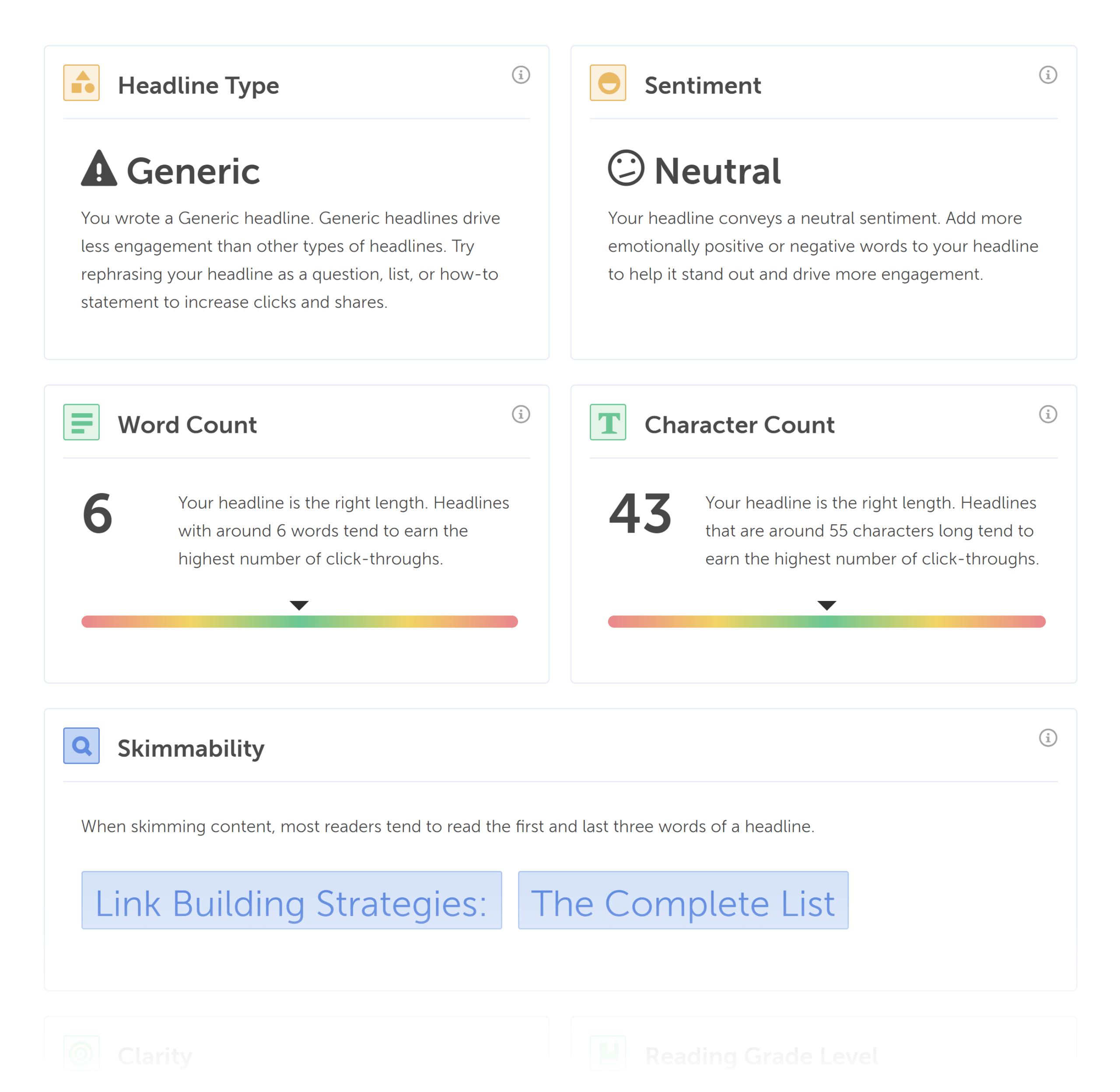 The Bottom Line
The next time you're about to publish a post (or send out a newsletter), run your title through this tool first.
Get analytics on your competitors' websites.
Want to know how much traffic your competitors get every month? Or the keywords that they rank for in Google?
Then you'll love SimilarWeb.
SimilarWeb gives you insider data on your competitor's top pages, keywords and traffic sources.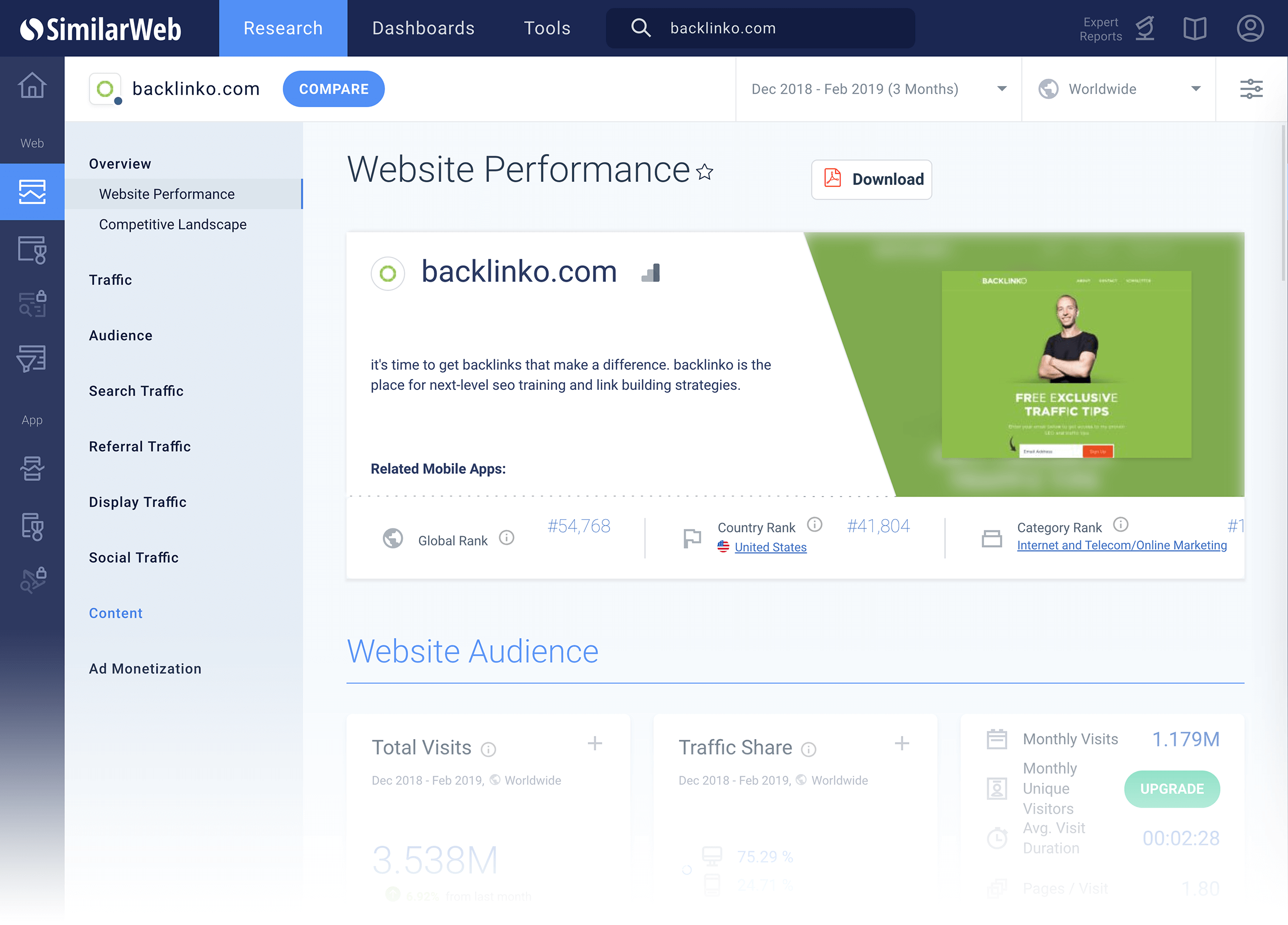 Pricing: Free or Enterprise pricing
My Favorite Feature: "Referrals"
See the exact sites that send your competitor the most traffic.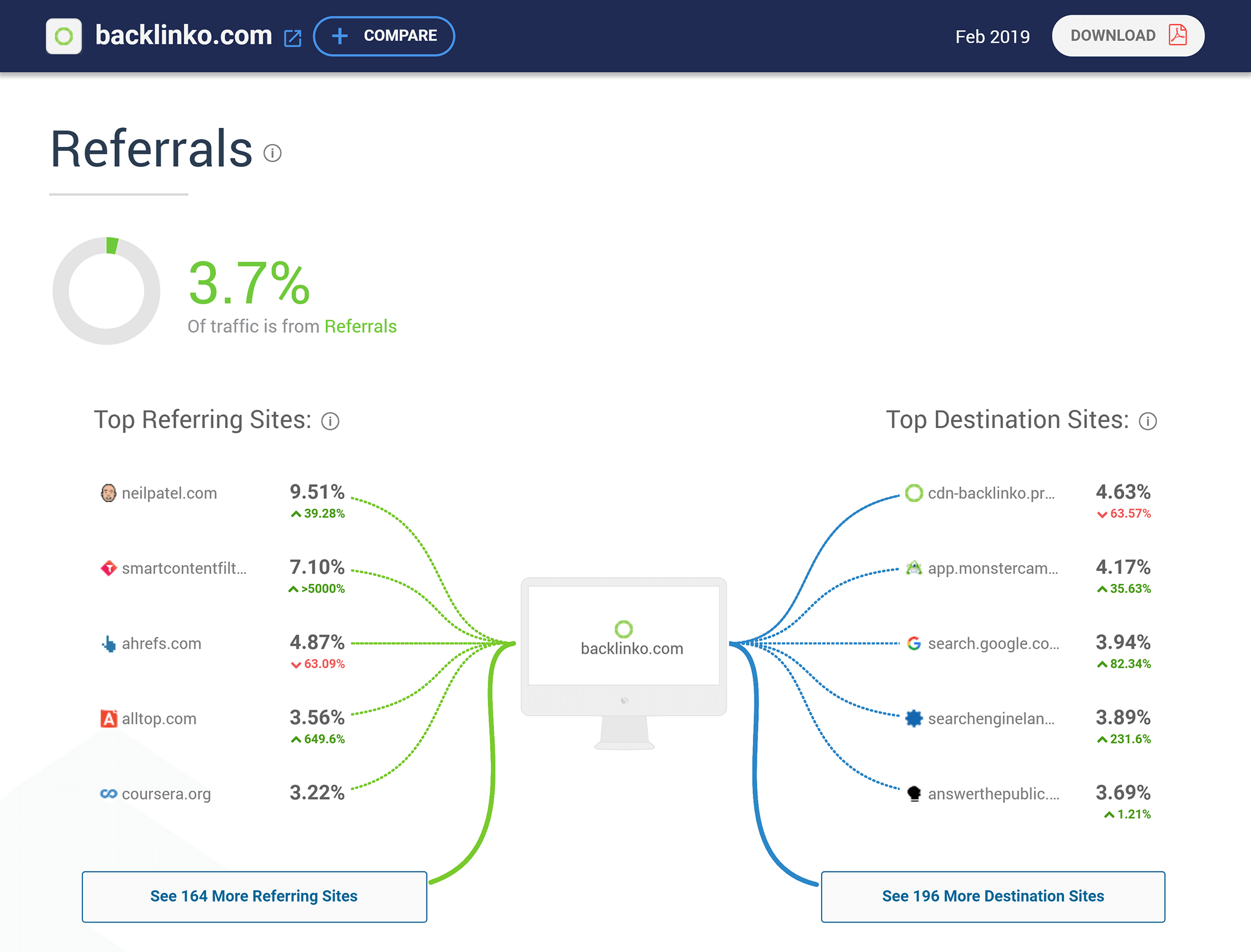 The Bottom Line
I love SimilarWeb. My only gripe is that they don't offer a straightforward monthly plan (only "Enterprise"). I'd happily pay $200 per month to get access to more data. But I don't want to deal with the hassle of the enterprise sales process.
High-quality social sharing buttons.
I'm a big fan of putting prominent social sharing buttons on your site. In my experience, it's an easy way to get more shares on Twitter, Facebook and other social media websites.
The issue is that most social buttons look ugly.
Not ShareThis.
ShareThis has sharp-looking social buttons that you can easily customize to match the look and feel of your website.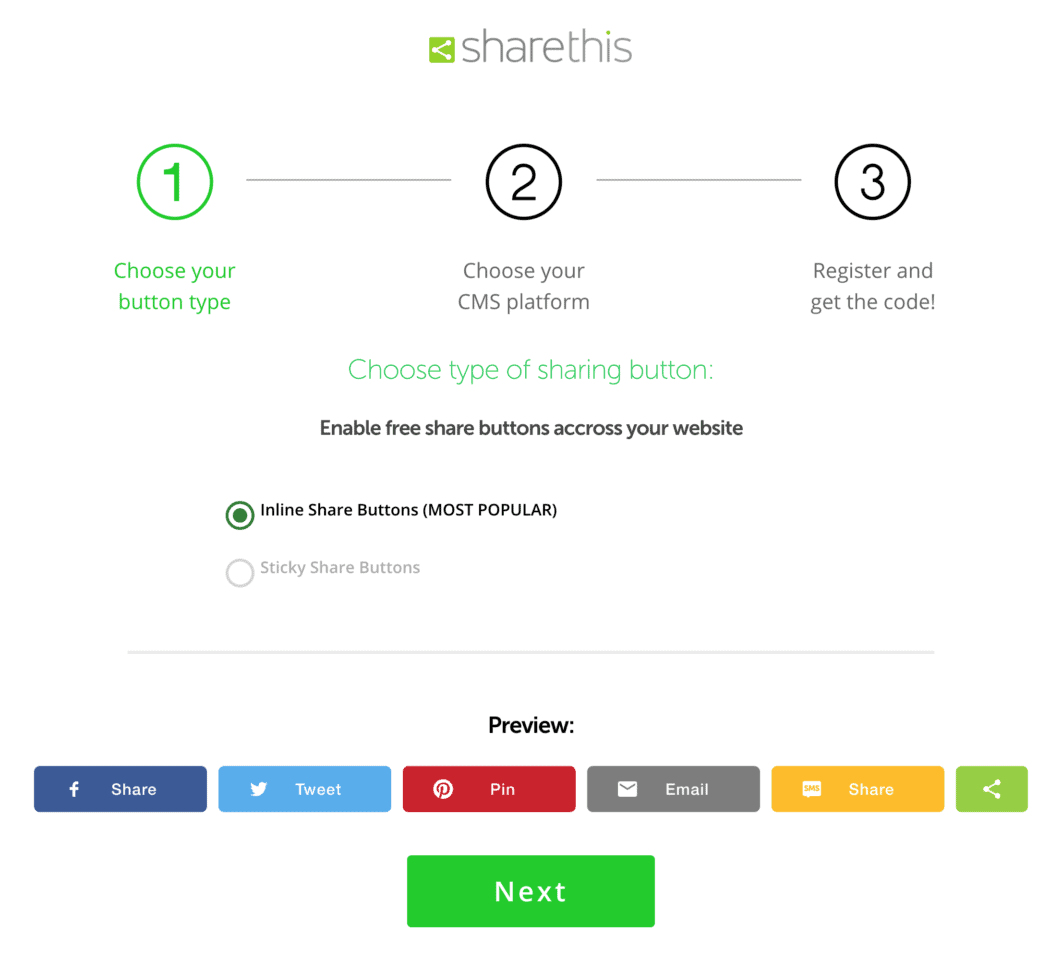 Pricing: Free
My Favorite Feature: ShareThis WordPress plugin
This makes it easy to get social buttons on your WordPress blog.
The Bottom Line
If you want an easy way to get social sharing buttons next to your blog content, look no further than ShareThis.
Schedule Facebook, Twitter and Instagram posts.
Buffer is a super simple way to make sure your social media posts go out when your audience is actually around to see them.
Just write a tweet just like you normally would. Then, schedule it to go out later.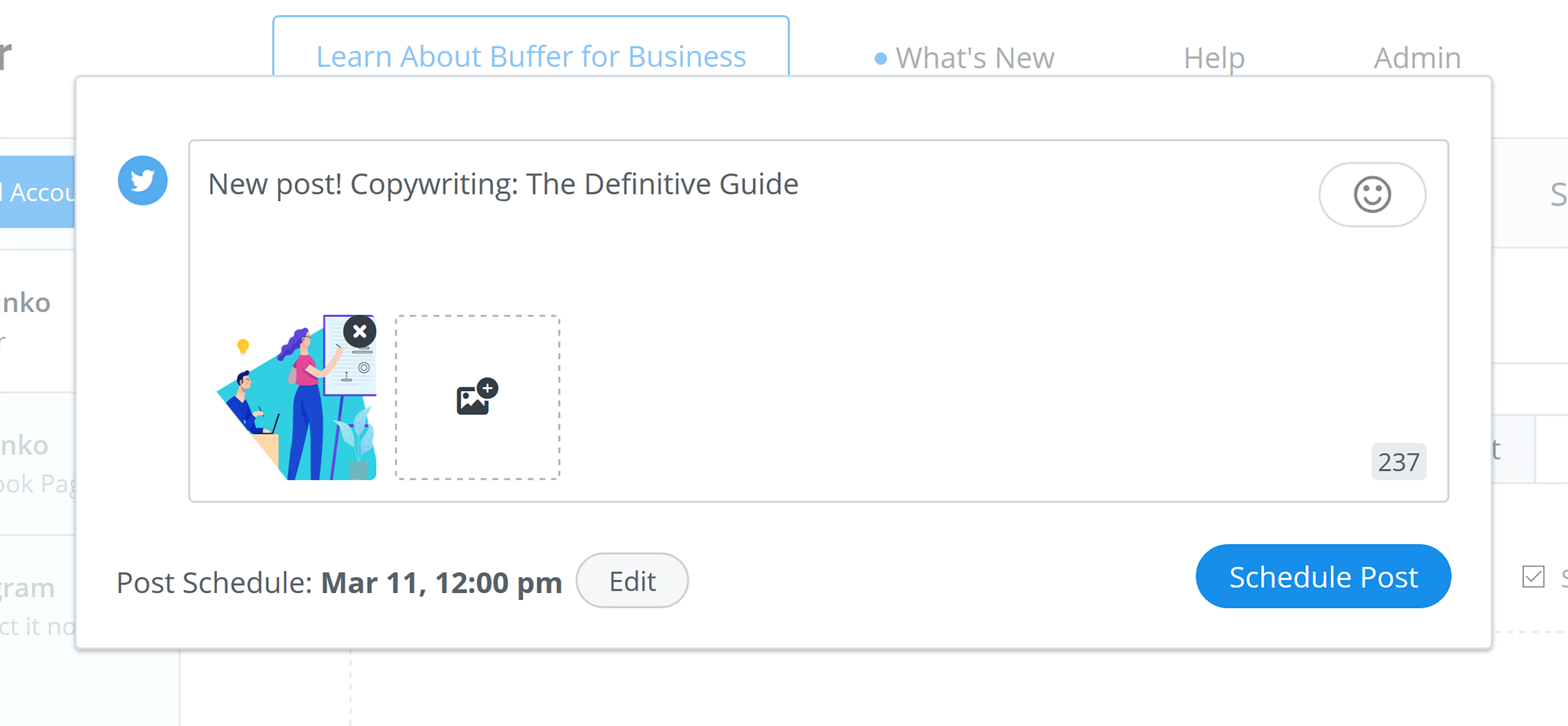 Simple.
Pricing: $15-$199 per month
My Favorite Feature: Analytics
See which Tweets got the most attention (in terms of clicks, retweets and overall engagement).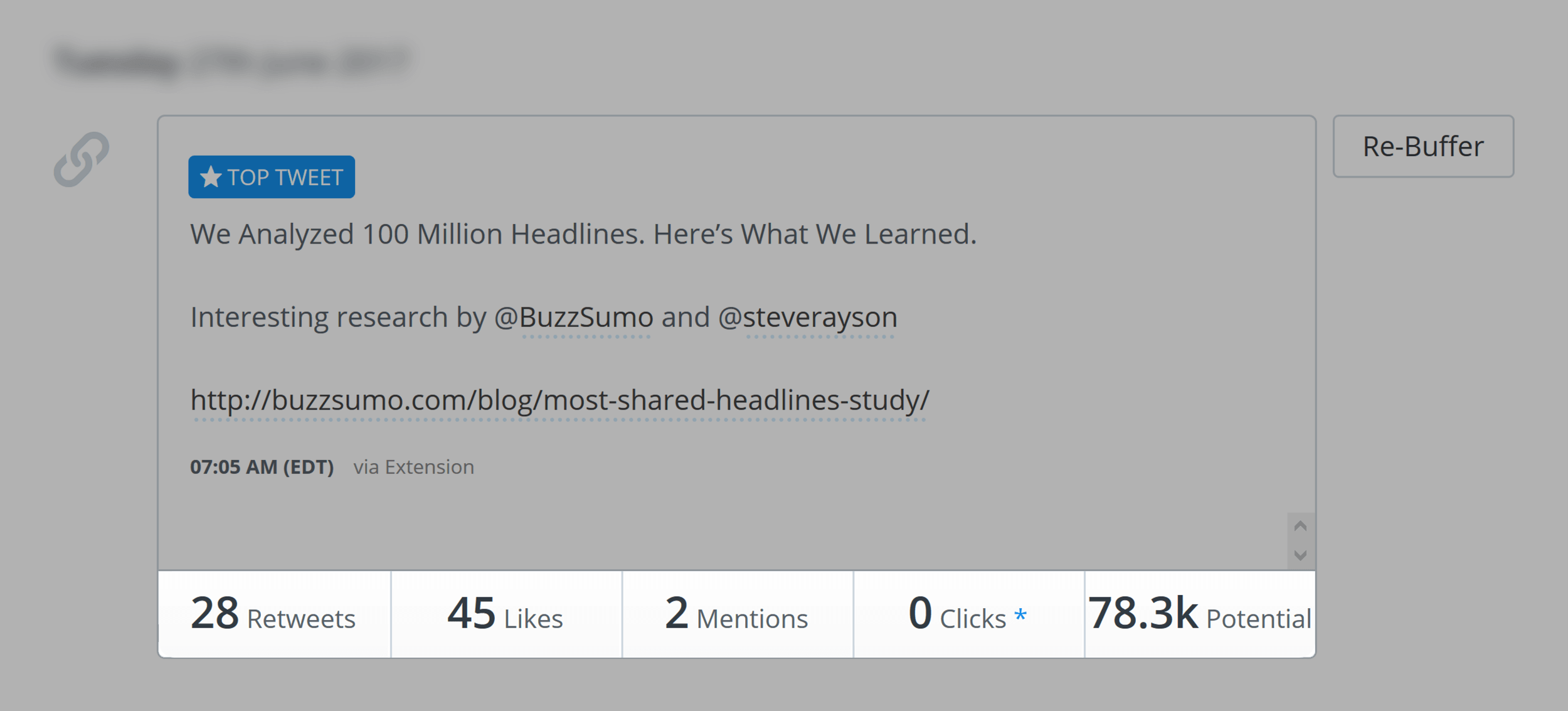 The Bottom Line
I've been a Buffer customer for over 6 years. That's because their tool is easy to use and reliable.
Visual content. Simplified.
You probably already know that visual content is growing fast.
That's good news. The bad news is that creating visual content is TOUGH.
You either need to work with a professional graphic designer. Or learn how to use fancy image editing tools.
Or do you?
Well, Canva makes the process of creating visual content much more accessible.
In fact, you can start creating anything from Instagram posts to presentations in a matter of seconds. And Canva's intuitive drag and drop interface makes it surprisingly easy to get the look and feel that you want.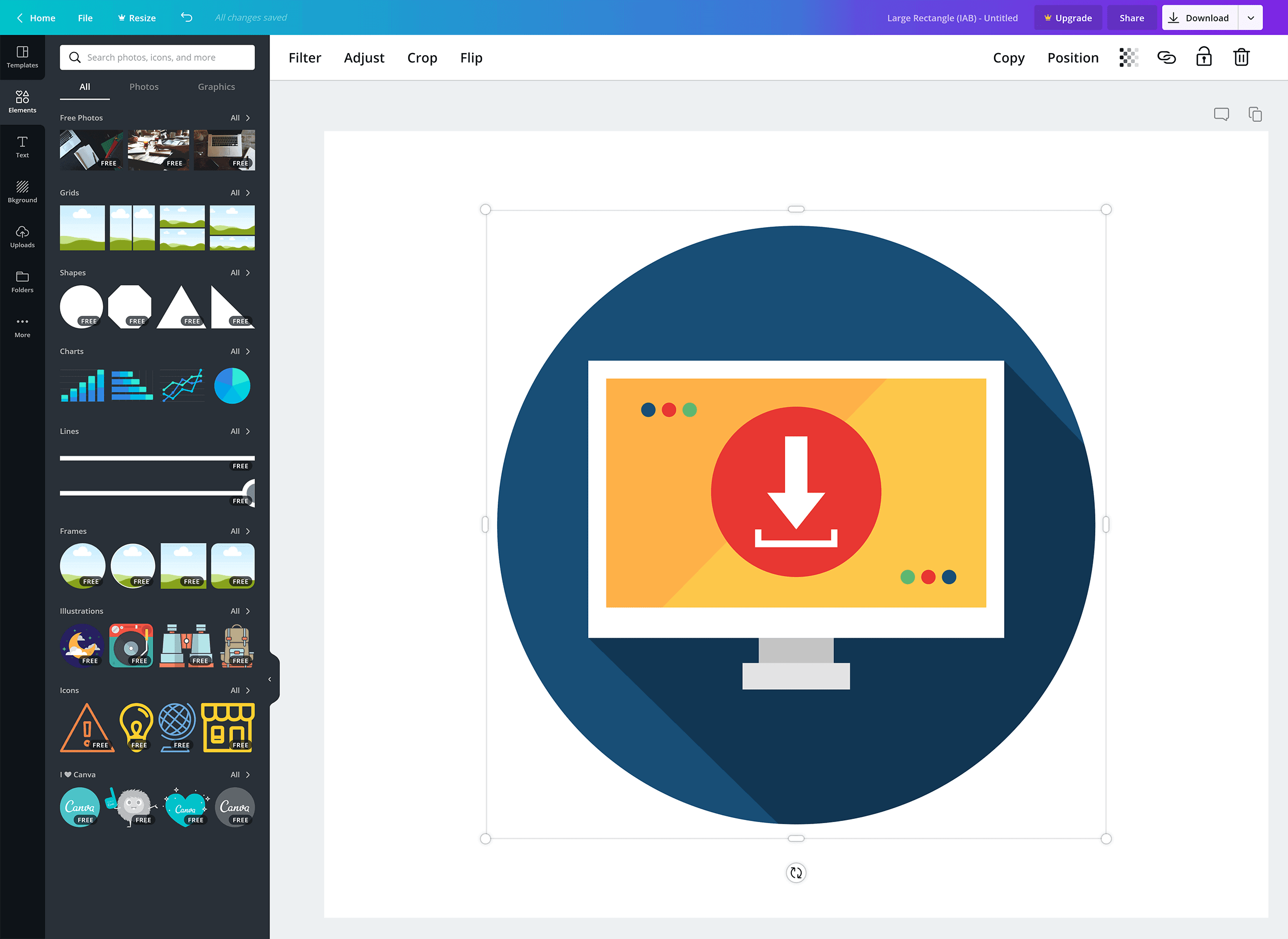 Pricing: $12.95 per month
My Favorite Feature: "Templates"
These are beautiful, pre-packaged image templates for popular social networks.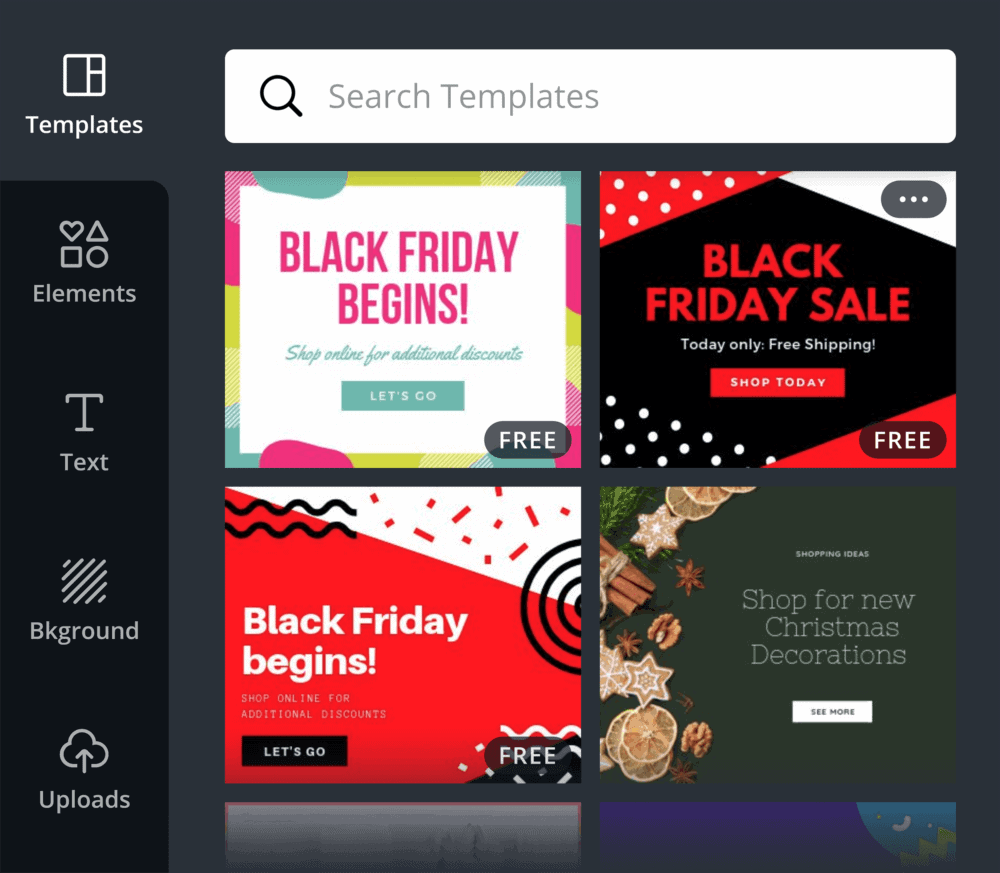 The Bottom Line
I've tried tons of online image editing tools, and Canva is one of the best… especially when it comes to creating images for social media.
Brainstorm content ideas in seconds.
This cool little tool from Portent generates dozens of different blog post titles.
For example, if you want to write something about the Paleo Diet, you'd enter "Paleo" into the tool. And it will spit out a title suggestion: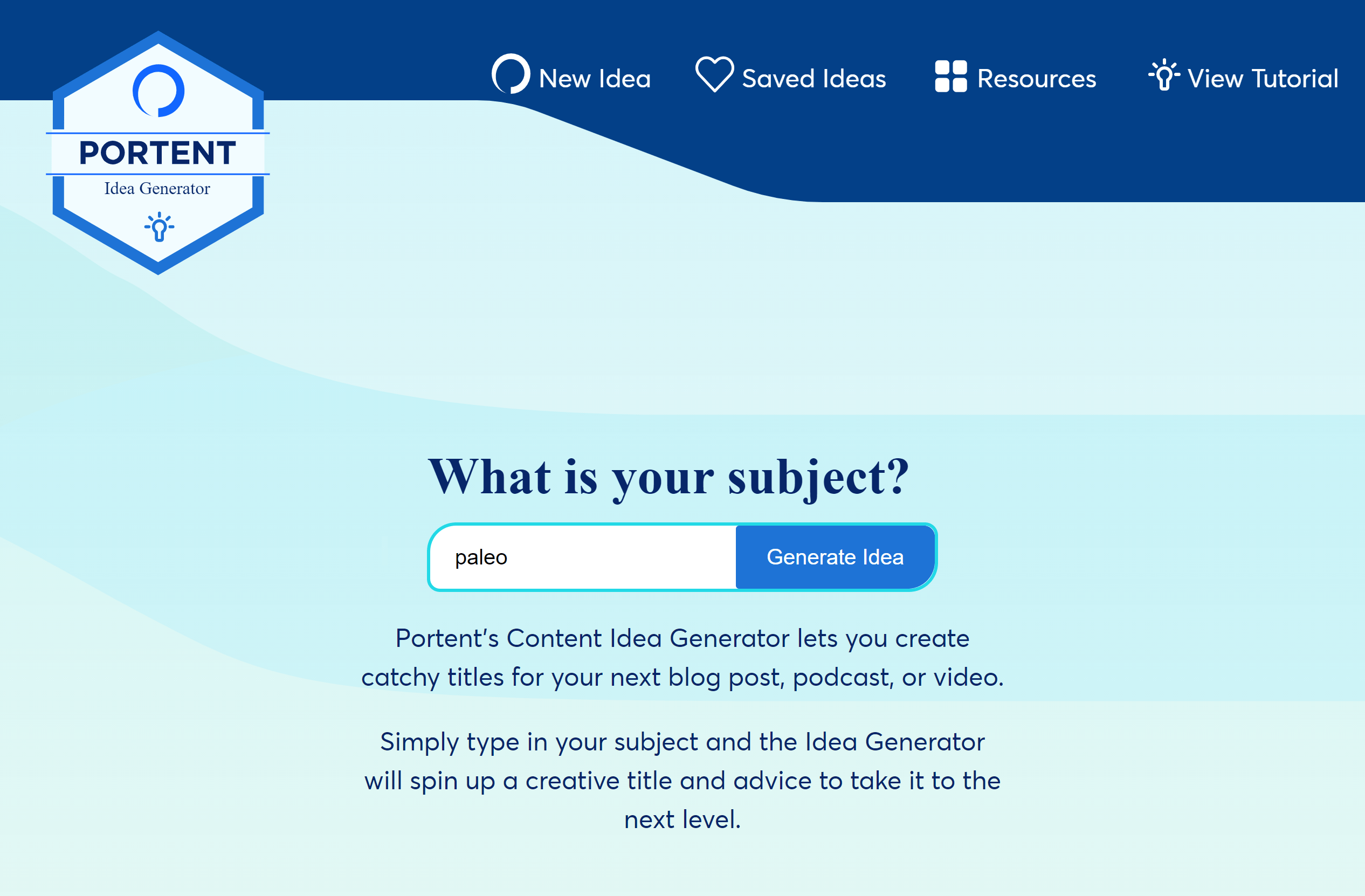 If that title isn't what you were looking for, click the arrow to get another one. Rinse and repeat until you find an idea you like.
Pricing: Free
My Favorite Feature: Tooltips
This tool doesn't just spit out suggestions. It also outlines why the different pieces of that particular headline work.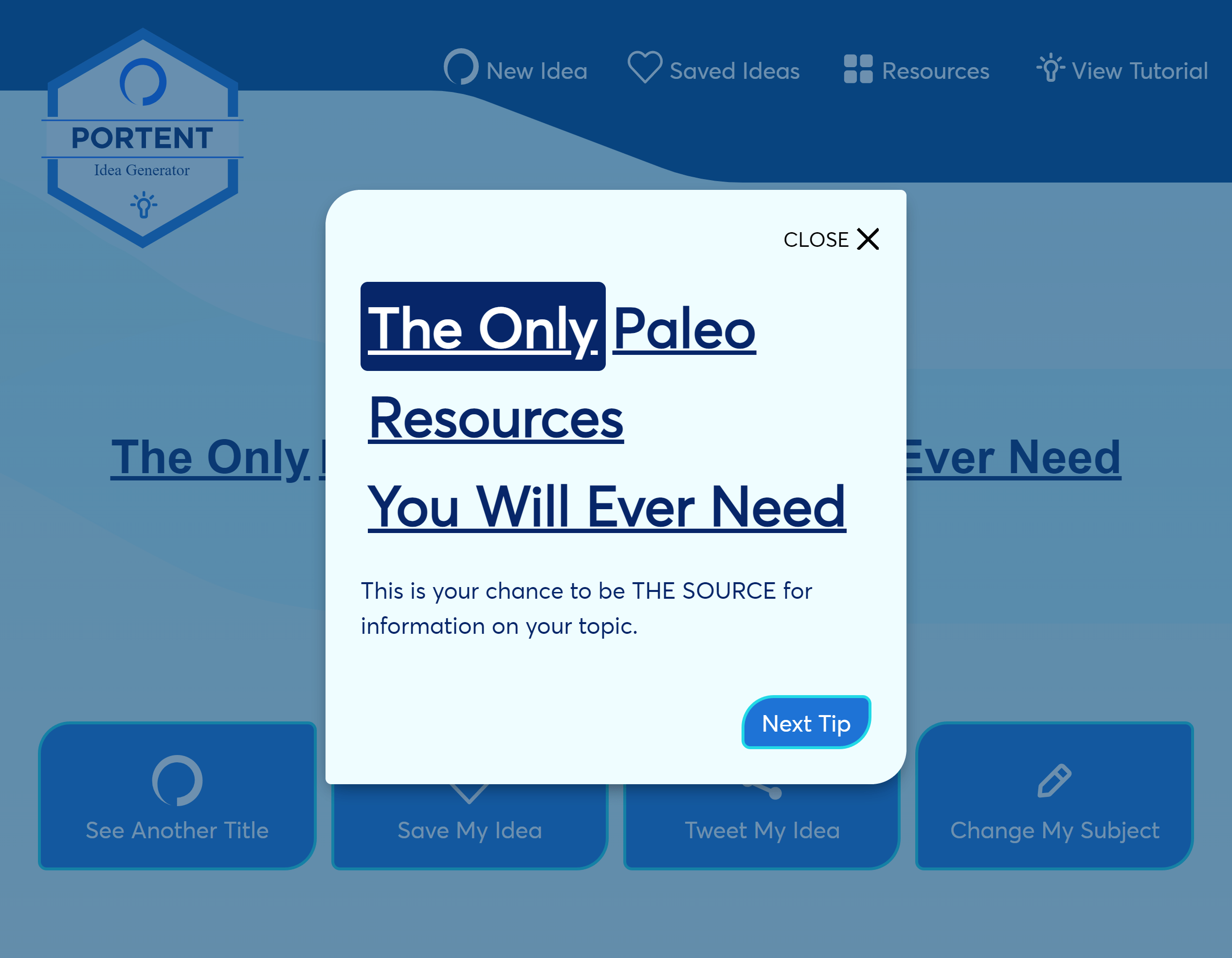 The Bottom Line
A fun tool to help you blast through writer's block.
Find influential Twitter users.
Followerwonk makes it easy to find influencers on Twitter.
Just search for the type of influencer you want to connect with (for example "search engine optimization" or "Crossfit"), and this tool will generate a list of highly-connected people in that space.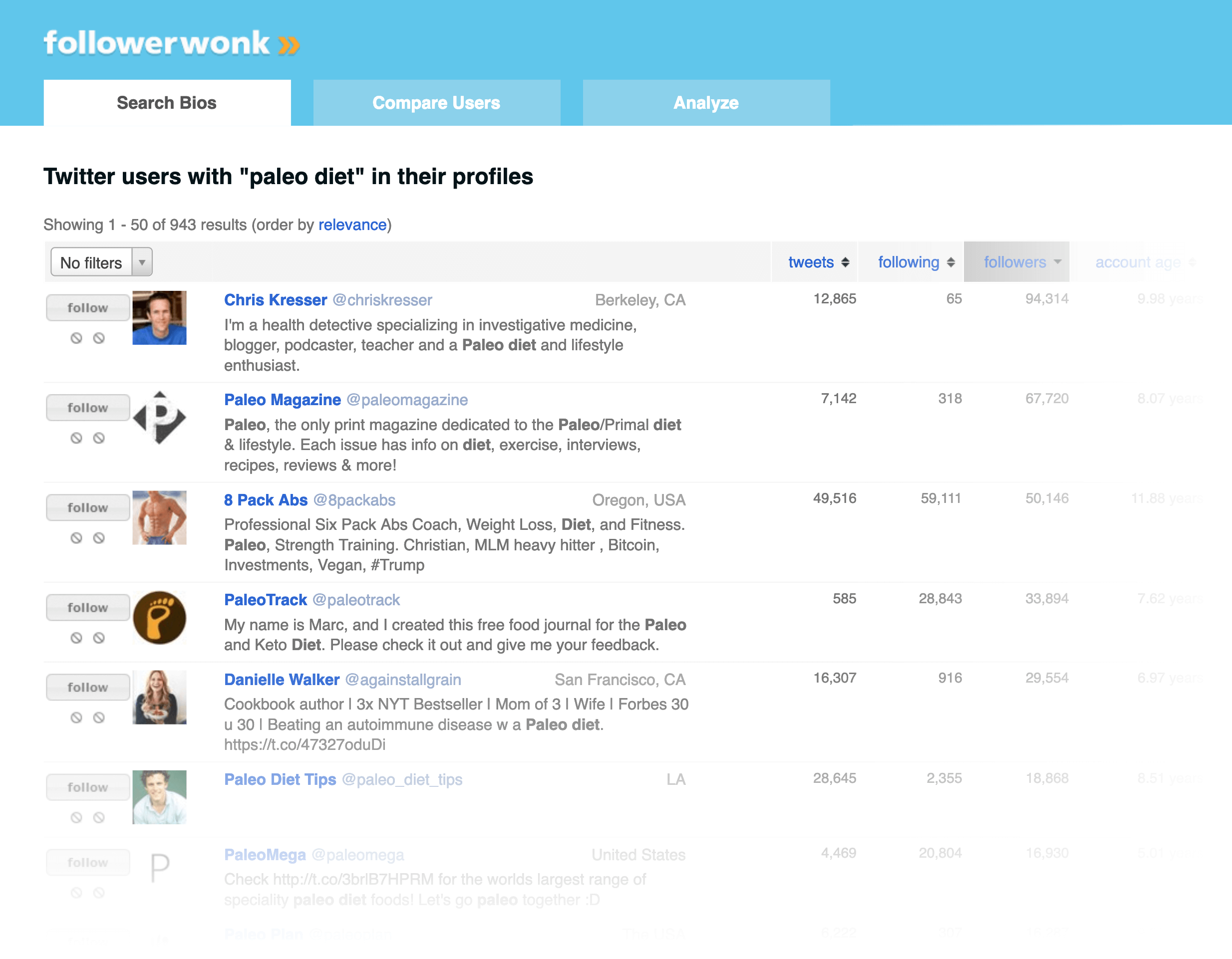 Pricing: $29-$79 per month
My Favorite Feature: Social Authority
Most tools sort Twitter users by the number of followers. Which is helpful.
But Followerwonk goes deeper. Instead of sheer follower counts, it shows you users that are followed by OTHER highly-followed peeps.
The Bottom Line
If you want to get started with influencer marketing, Followerwonk isn't a bad place to start.
Super simple email marketing.
Aweber was one of the first fully-automated Email Service Providers.
And in my opinion, 20 years later, it's still one of the best. That's why I send newsletters to 123,647 email subscribers using Aweber's platform:

If you want a thousand features and advanced segmentation, you're probably better off with something like ConvertKit.
But for a simple email newsletter or content promotion campaigns, Aweber is great.
Pricing: $19-$149/month (up to 25k subscribers)
My Favorite Feature: Segments
Aweber recently added their version of marketing automation to the platform. Like with the main product, it's simple to use. And after using it on two recent product launches I can confirm that it works really well.
The Bottom Line
If you want a simple email marketing platform with great deliverability, I recommend checking out Aweber.
Software that makes your writing better.
Hemingway is like having a writing coach review your work.
Specifically, it lets you know if your copy uses the passive voice… or has sentences that are hard to read.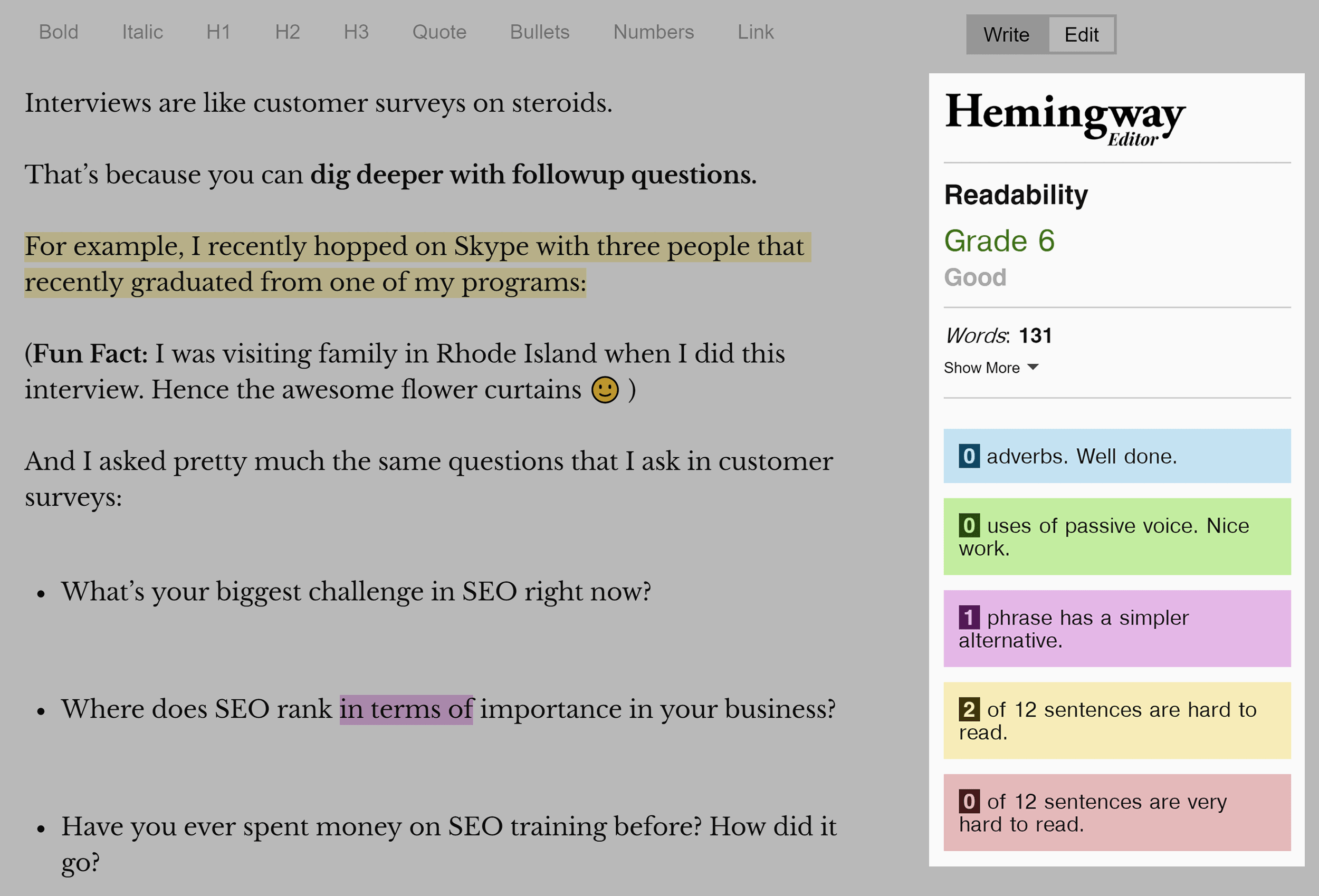 Pricing: Free or $19.99 one-time payment for desktop version
My Favorite Feature: Similar Phrases
Hemingway lets you know if your content uses fancy words (like "Utilize"). And offers simpler suggestions.
The Bottom Line
Hemingway is an easy way to evaluate your writing before you hit "Publish".
Summary
Alltop isn't a traditional content marketing tool. It's more of an interactive list of popular blogs in about 50 different niches (including Food, Photography and SEO).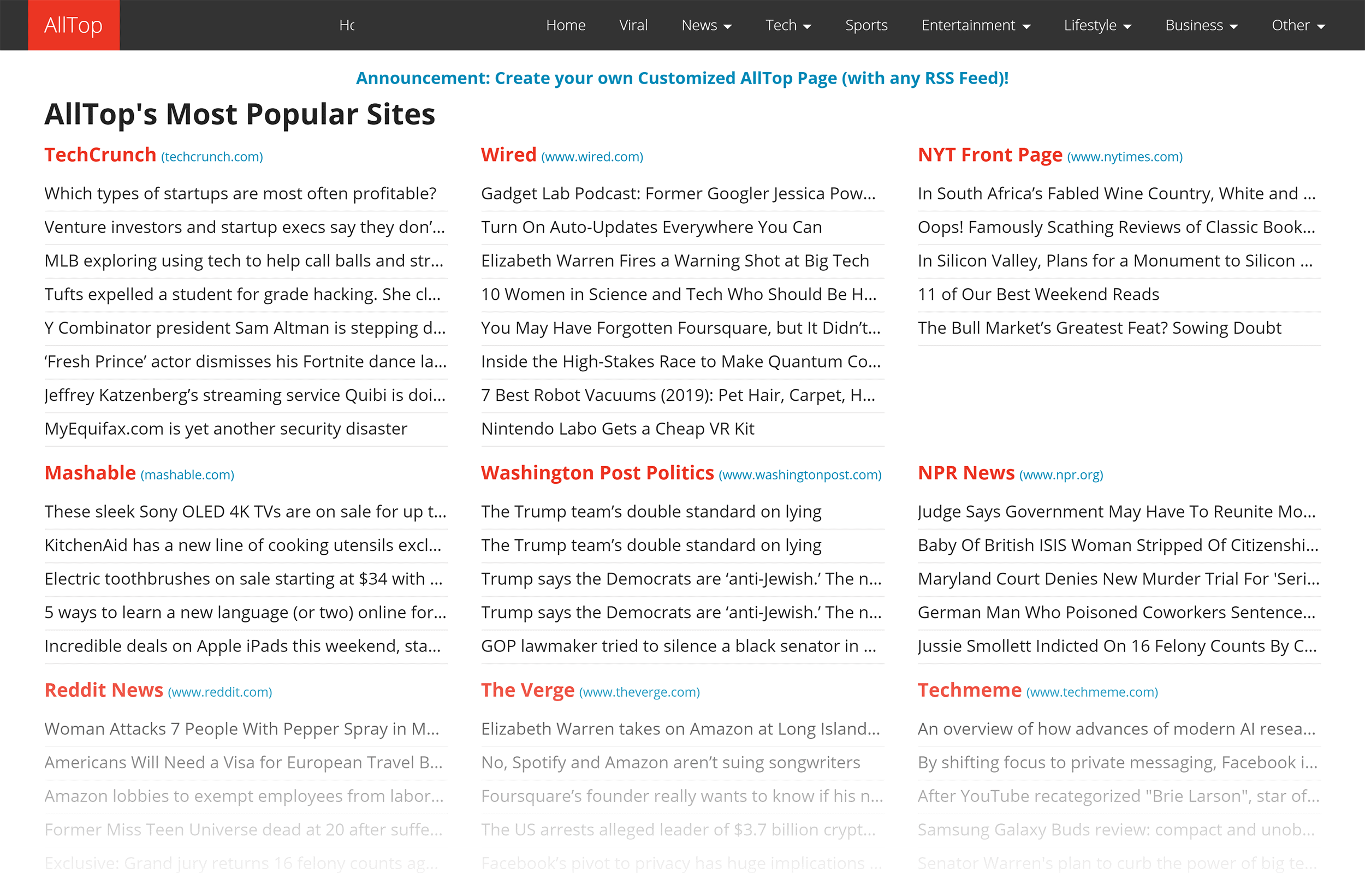 What can you do with this information?
Well, you can use Alltop to find blogs to guest post on. Or you can see what topics bloggers in your industry all talking about. The possibilities are pretty much endless.
Pricing: Free
My Favorite Feature: Viral
An easy way to find content that's getting crazy amounts of shares at any given time. Perfect for Newsjacking.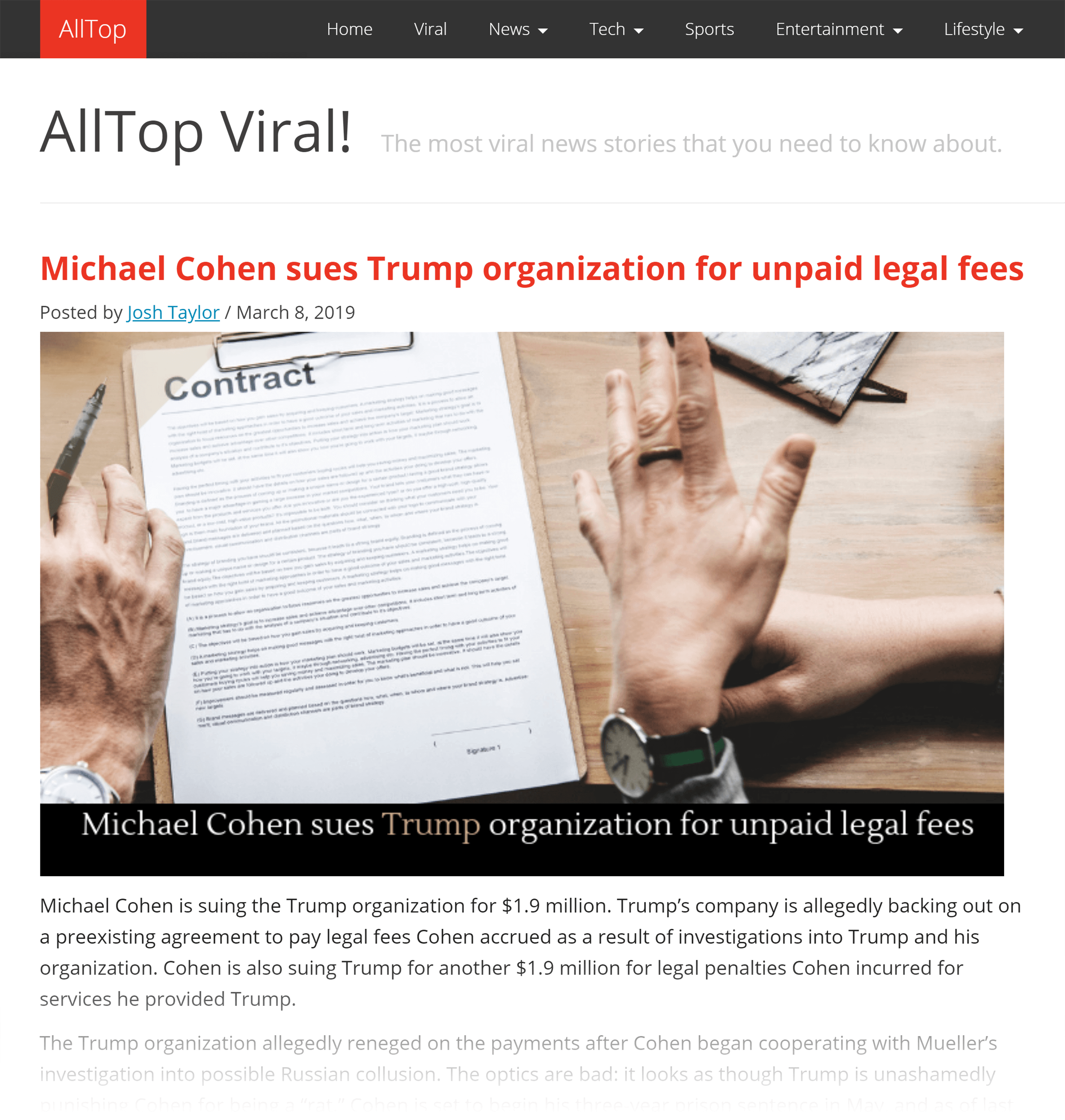 The Bottom Line
Alltop is one of my favorite free content marketing tools.
Spy on your competitor's YouTube channels.
SocialBlade is like getting an inside look at a competitor's YouTube Studio account.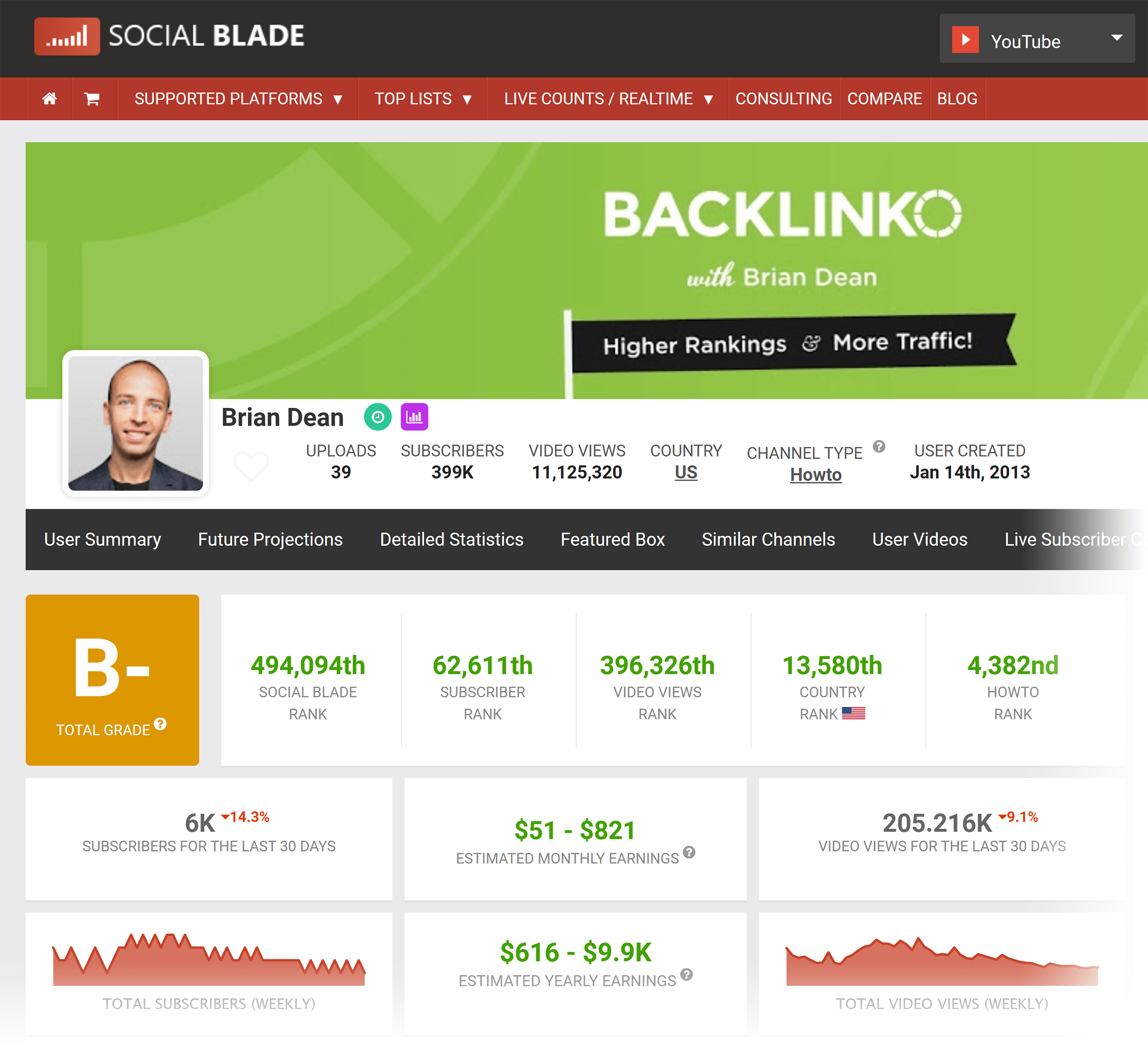 Sure, SocialBlade shows you stuff that you can see anywhere (like real-time subscriber count). But what makes this tool special is that it collects a channel's stats over time.
That way, you can see the exact number of subscribers and views someone gets every month (and how that changed compared to last month).
Pricing: Free
My Favorite Feature: YouTube Progress Graphs
Get a visual of how much a channel has grown over the last year.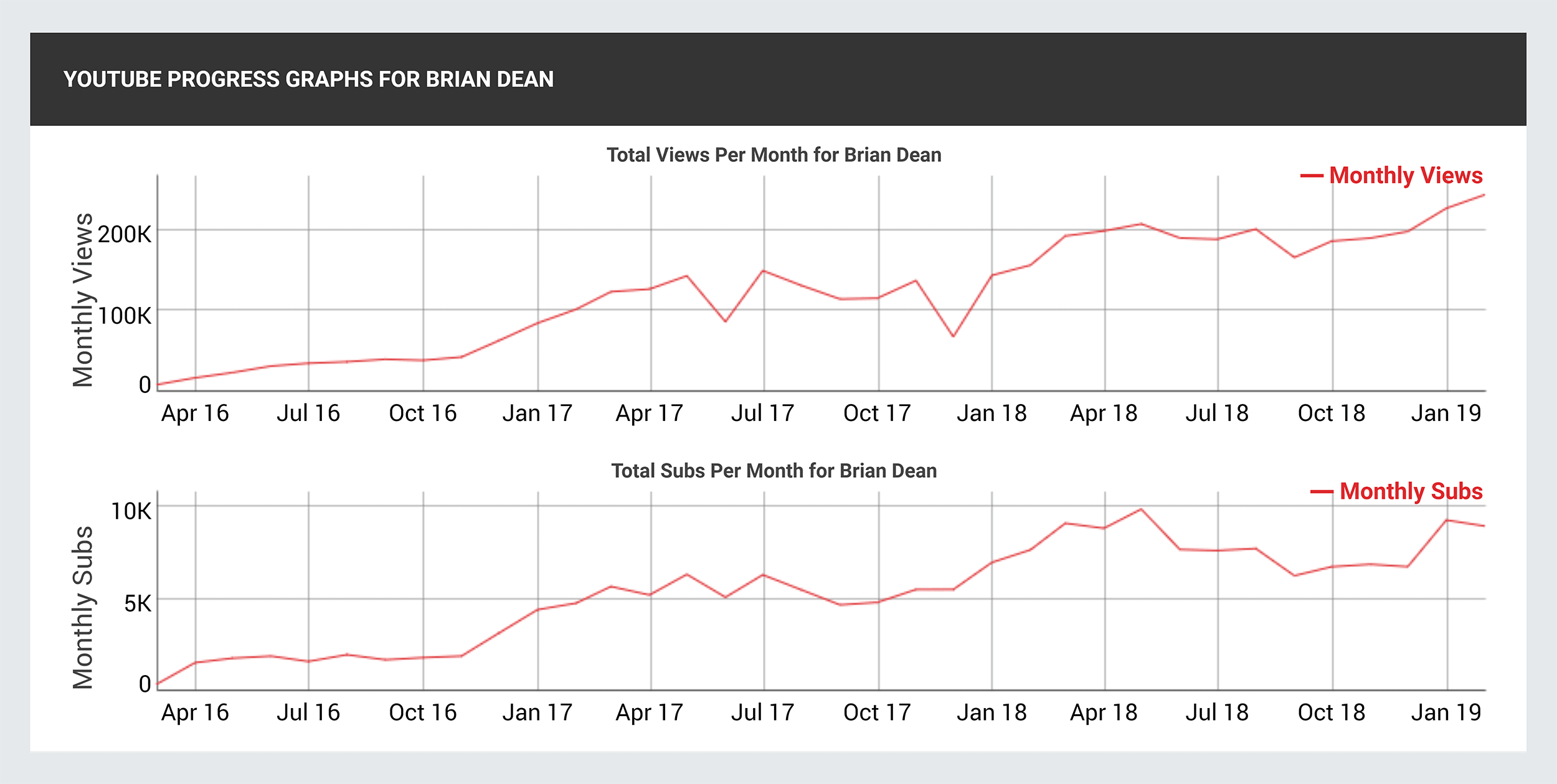 The Bottom Line
SocialBlade is a simple tool for figuring out which channels in your industry are growing (or tanking). That way, you can model what's working right now.
A more modern way to optimize your content.
If you've ever used an "SEO grader", you've walked away disappointed.
After all, you probably already know that you should "use your keyword in your title tag".
Well, Clearscope takes SEO content graders into the modern age. Specifically, it gives you a list of specific keywords that you should use in your post.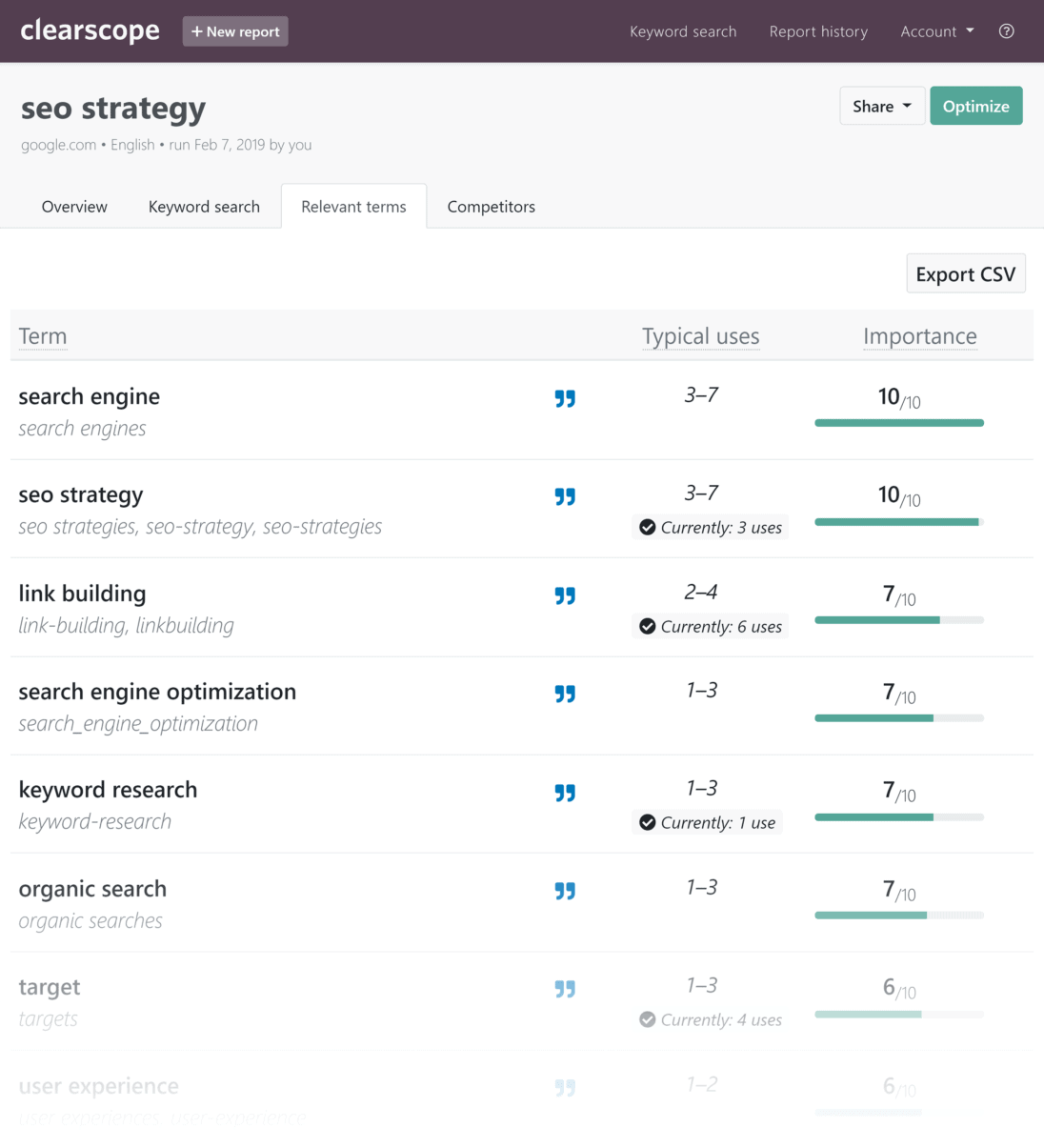 Pricing: $300 per month
My Favorite Feature: "Content Grade"
Copy and paste your draft into Clearscope… and see which words and phrases you're missing…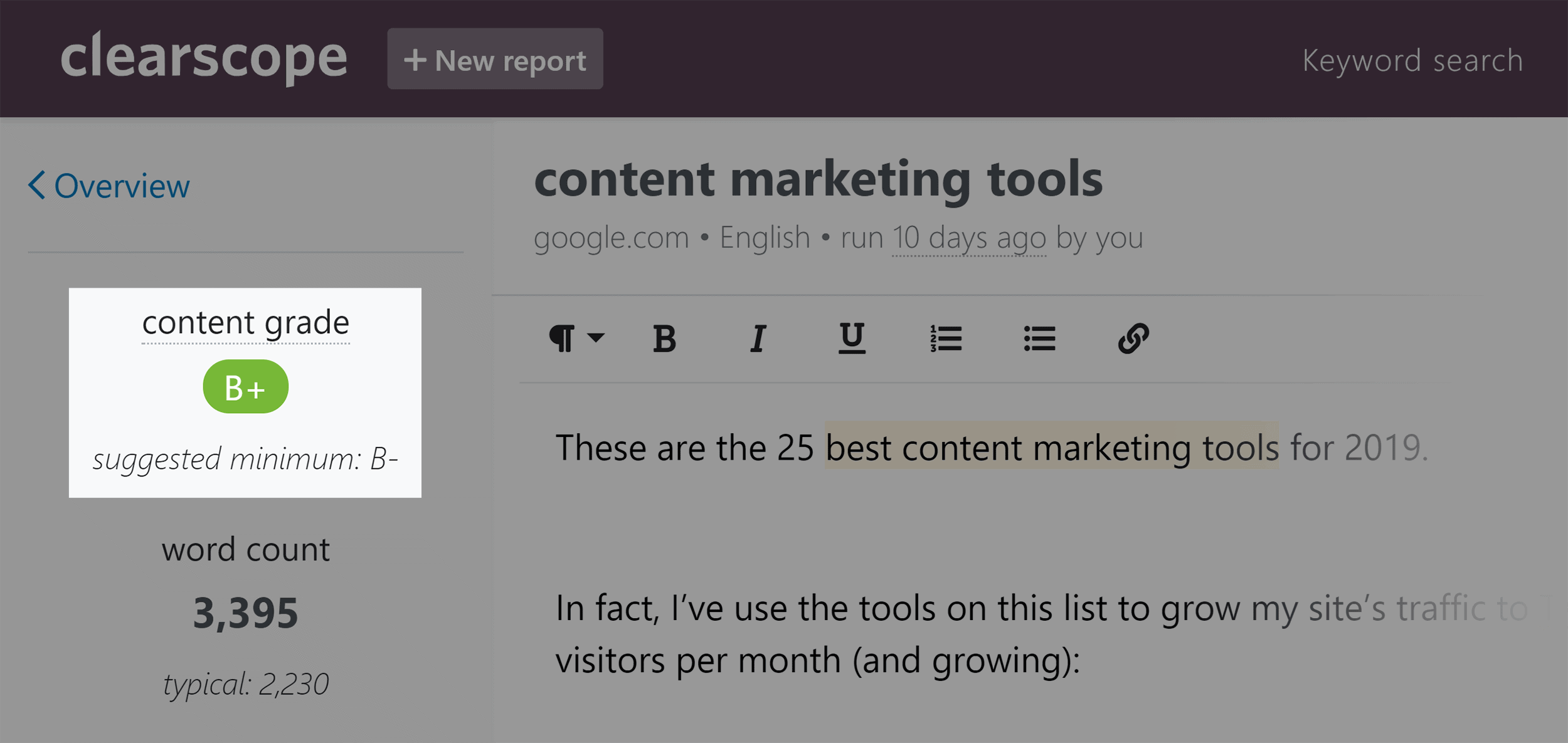 The Bottom Line
Clearscope isn't cheap. But if SEO is the main focus of your content marketing, it's probably worth trying out.
Cite research and data with ease.
Airstory recently pivoted from a full-fledged content writing platform to a Chrome and Firefox extension that helps you cite sources in your content.
For example, let's say you have a Google Doc or Evernote file called "social media stats". And it's a list of stats that you've collected over the years.
Well, with Airstory, you don't need to open that document 100 times just to copy and paste the same stat.
Instead, you can store the stat in Airstory as a "Note"… and one-click paste it into your content.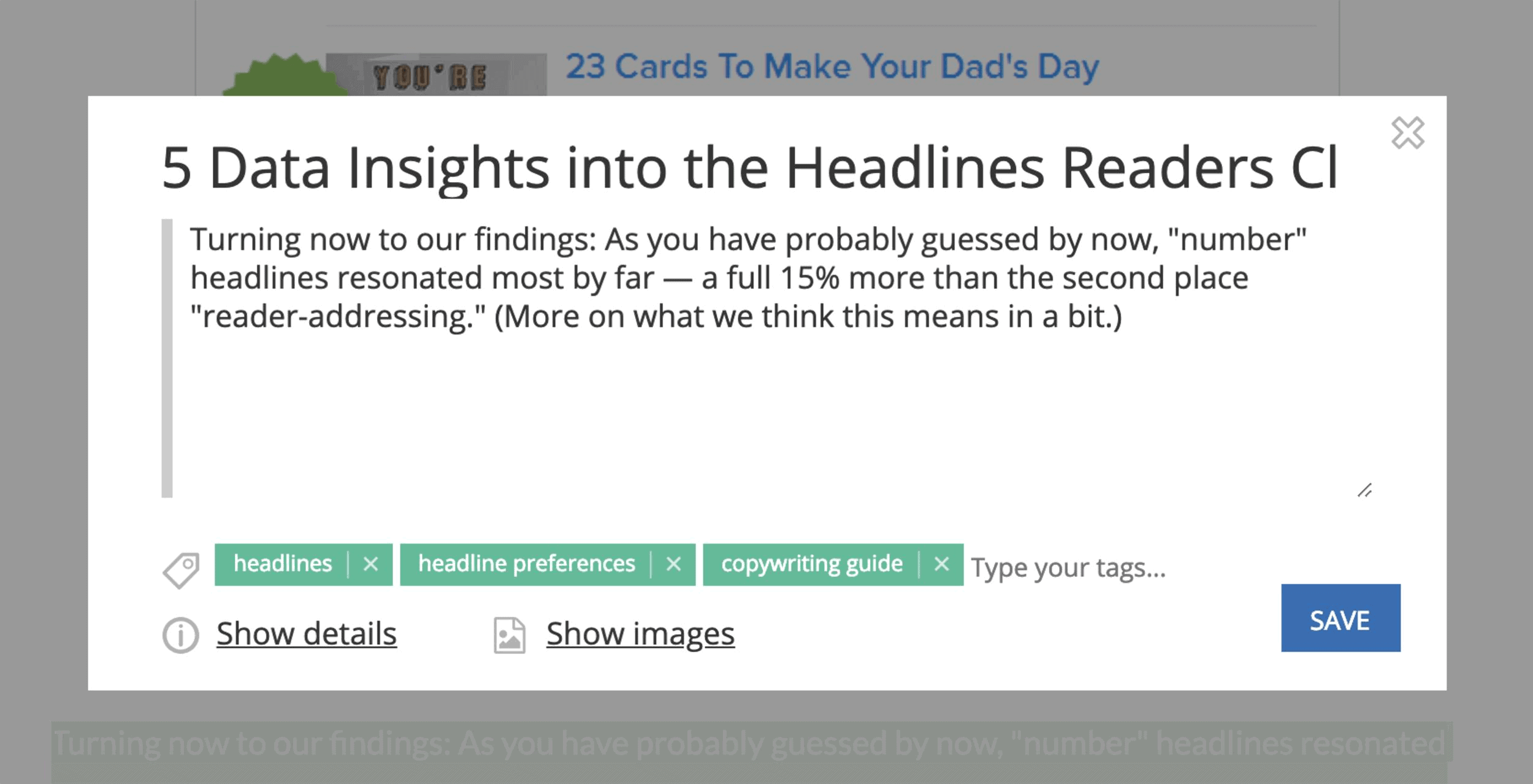 Pricing: Free
Favorite Feature: Tags
Use tags to sort notes into different categories (like "content curation" or "blogging stats")
The Bottom Line
If you write a lot of highly-sourced, data-driven content, Airstory will quickly become one of your favorite content marketing tools.
Publish WordPress posts directly from Google Docs.
Do you write most of your blog posts in Google Docs?
If so, then you know that porting that content over to WordPress is a giant pain.
Enter: Wordable.
Wordable pushes your Google Doc into your WordPress site… with the push of a button. It's a massive time saver.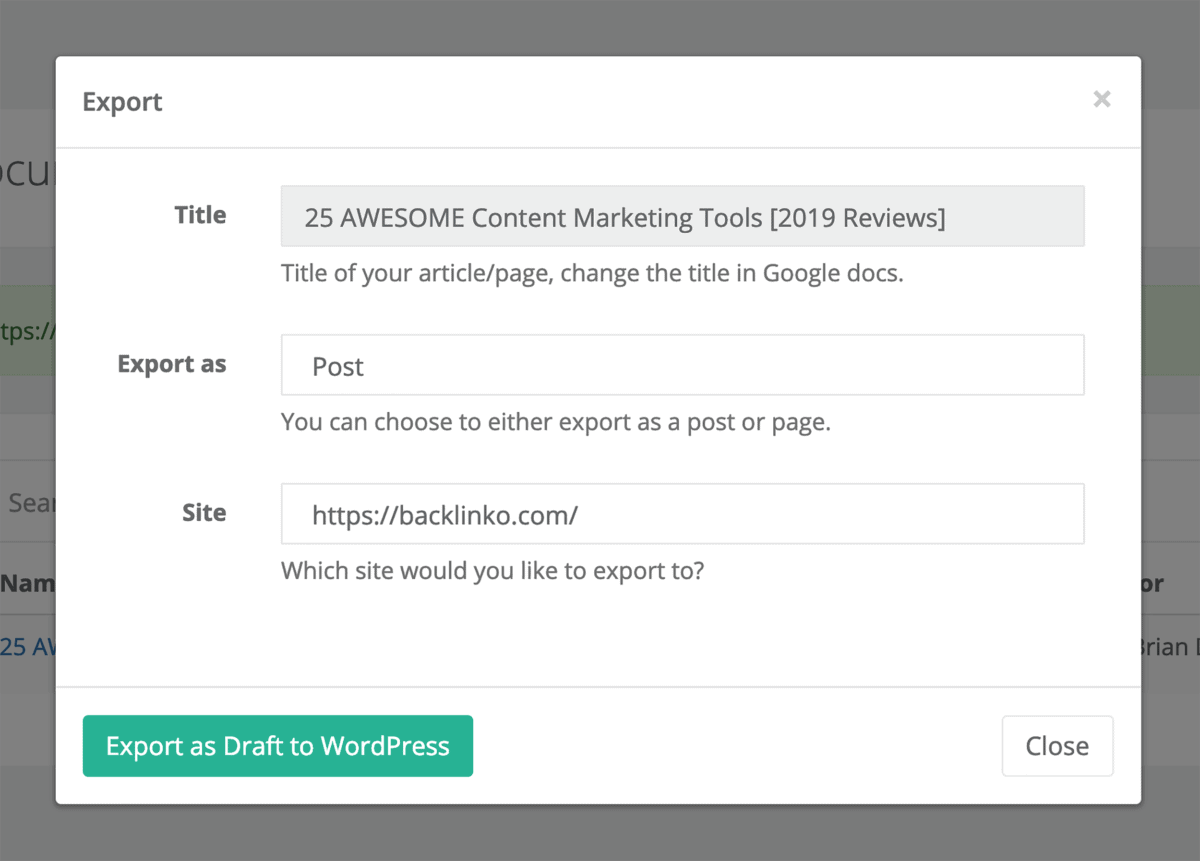 Pricing: $19 per month
My Favorite Feature: Post or Page
You can choose to publish your Google Doc content as a WordPress post or page. Not a huge deal, but a nice little feature for those of you that prefer to publish content as a page instead of a post.
The Bottom Line
If you're tired of copying and pasting content into WordPress, check out Wordable.
Find emerging content topics for blog posts, YouTube videos, and more.
Finding blog posts topics is easy.
But finding topics that haven't been covered to death already?
That's a different story.
Well, that's where the new Exploding Topics come in.
This tool scans the web for topics (including brands) that are growing in popularity. And they curate the best of the bunch.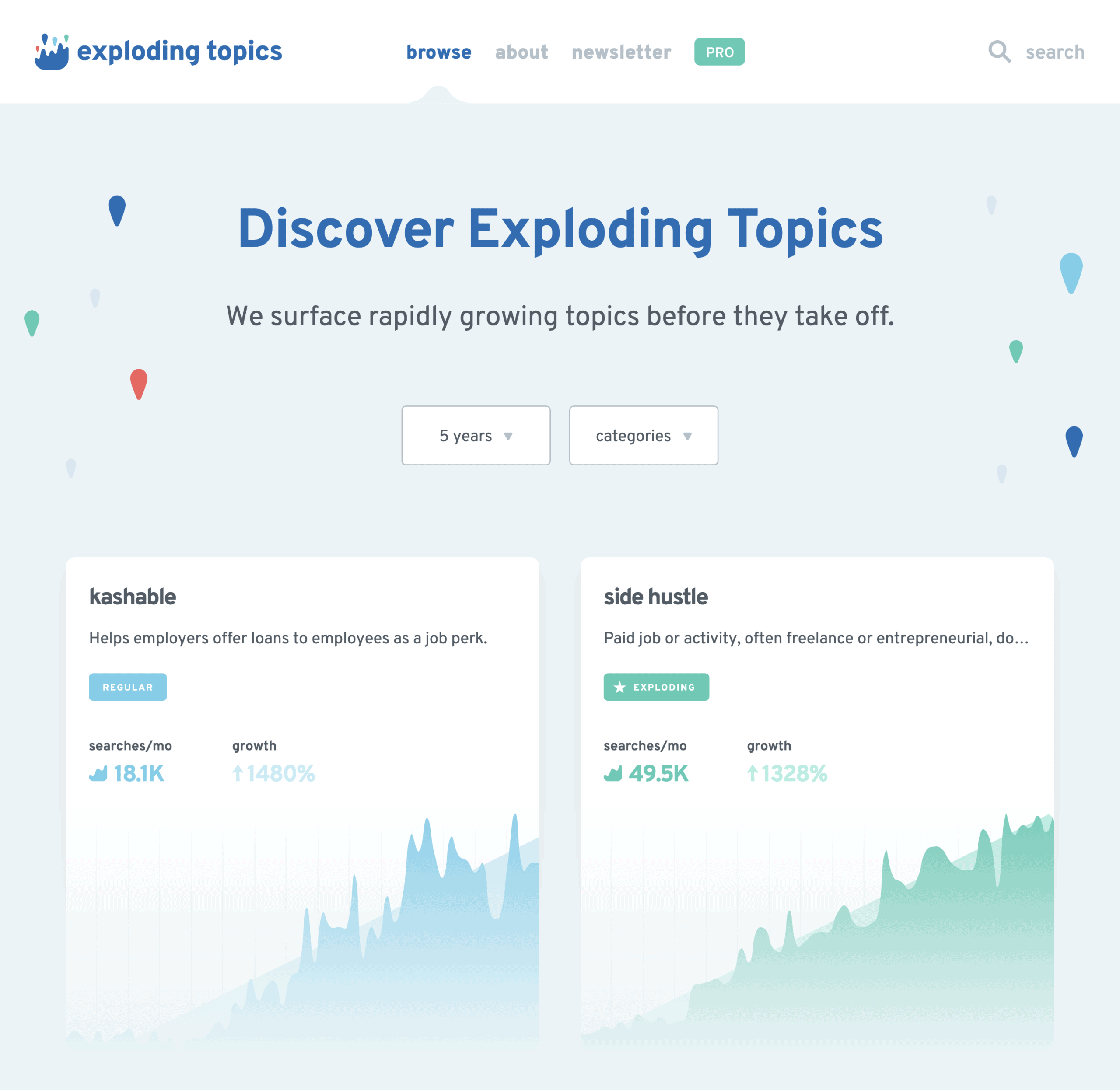 Pricing: Free
My Favorite Feature: Categories
This filter lets you find trending topics on categories that you care about, including fashion, products, eco and home.
The Bottom Line
If you want to find topics (and SEO keywords) that are popular but not competitive yet, I recommend checking out this free tool.
Easily optimize your YouTube videos.
TubeBuddy is a feature-rich tool designed to help you grow your YouTube channel.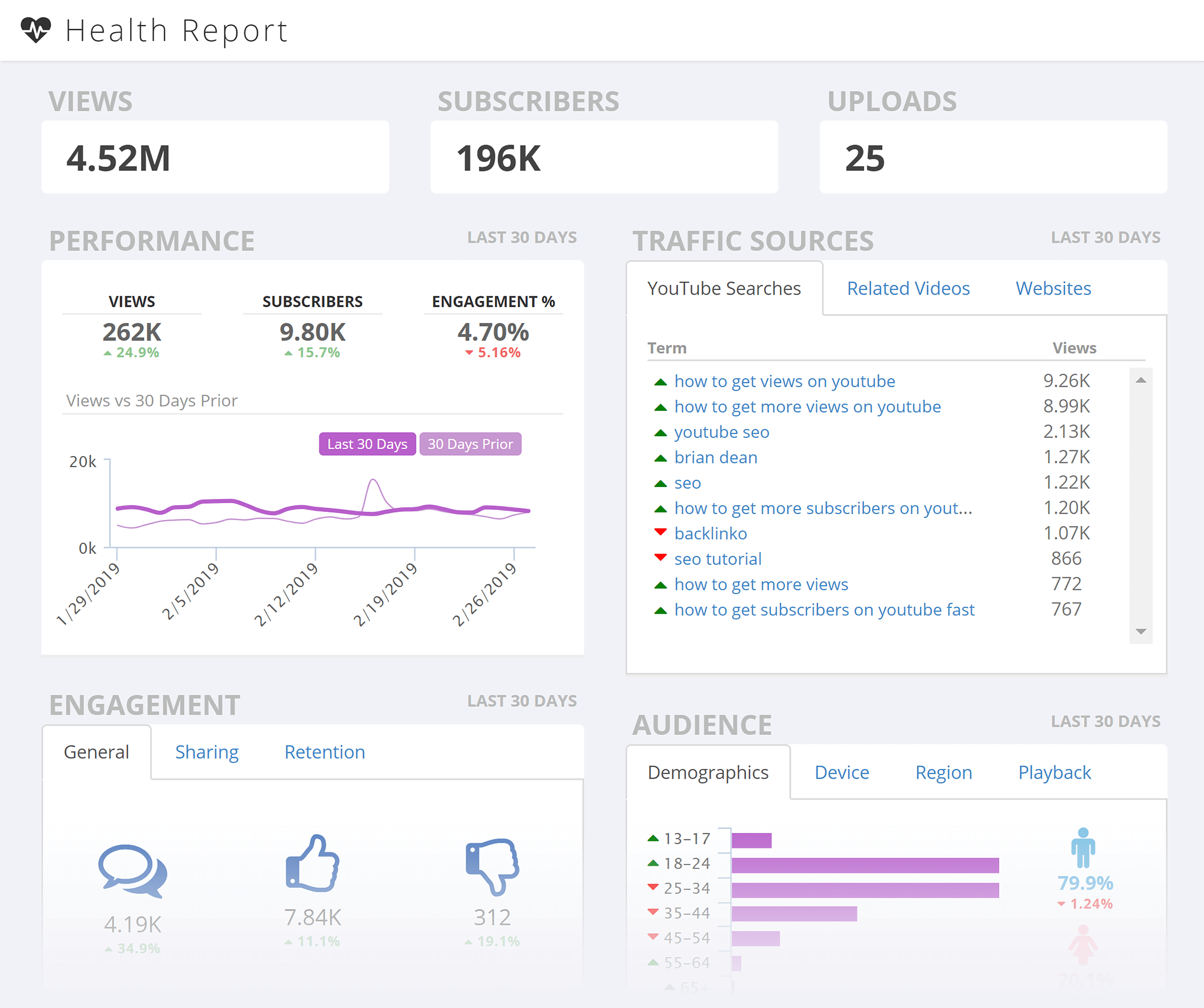 That said, TubeBuddy's focus is definitely video SEO.
In fact, most of its core features focus on things like tags and rank tracking.
Pricing: $9-$49 per month
My Favorite Feature: "Retention Analyzer"
This is a dashboard of your channel's Audience Retention numbers. That way, you can see which videos keep your audience engaged… so you can make more of them.
The Bottom Line
If you're looking for an easier way to optimize your videos, give TubeBuddy a shot.
See how people interact with your content.
HotJar combines heatmaps with a bunch of other helpful features to help you visualize how users actually use your website.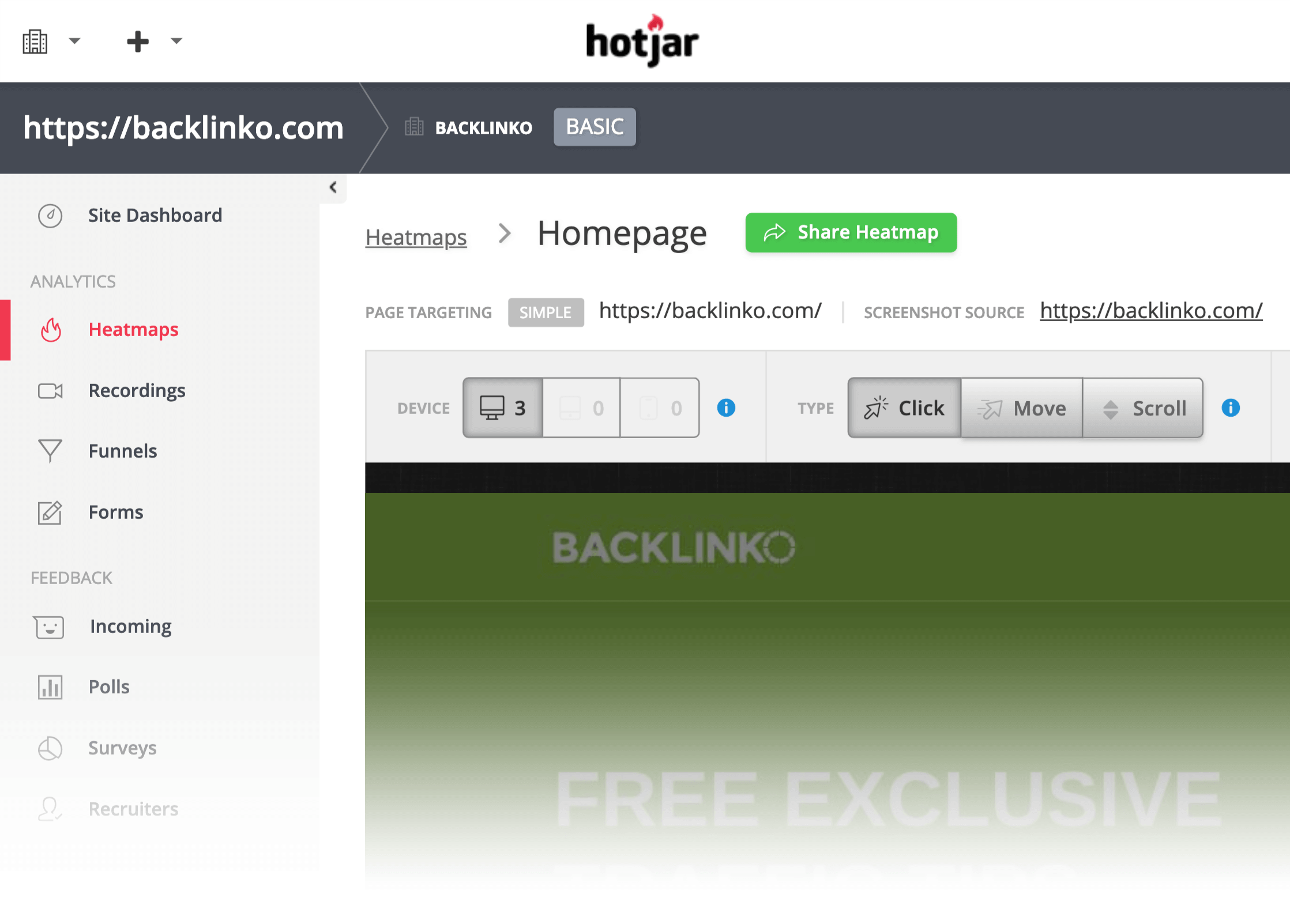 That way, you can tweak your content marketing strategy to give people what they actually want.
Pricing: $29-$589 per month.
My Favorite Feature: "Recordings"
We actually used this for a beta product we were testing. And the insights we got from user recordings were absolutely mind-blowing.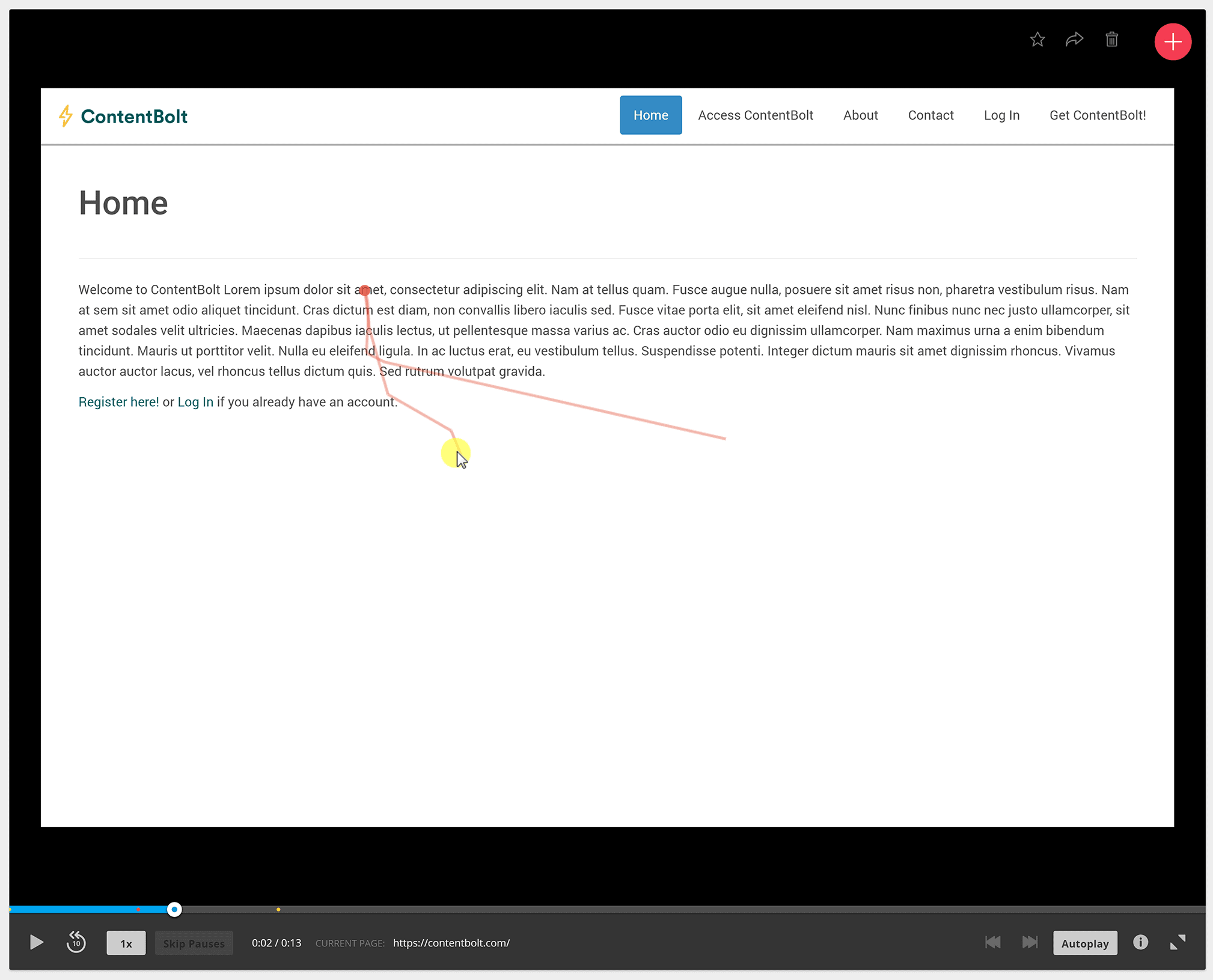 The Bottom Line
There are a lot of heatmap tools out there. But in my experience, HotJar is the best of the bunch.
A simple editorial calendar.
Loomly is super simple editorial calendar software. Even though you can use Loomly to plan any type of content, its focus is definitely on social media posts.

Pricing: $20-228 per month
My Favorite Feature: "Workflow"
Workflow is like a mini content assembly line within Loomly. That way, your marketing teams can collaborate on the content that you publish.
The Bottom Line
Great tool for organizing and scheduling social media posts.
Make video content better with collaboration.
Back in the day, I used to HATE sending feedback to my video editor.
I'd have to timestamp every single change and send screenshots.
Then, one day, my editor said he wanted to try something called Frame. And it was a GAME CHANGER.
Today, I just leave a comment on the exact spot that needs a change. And it gets done.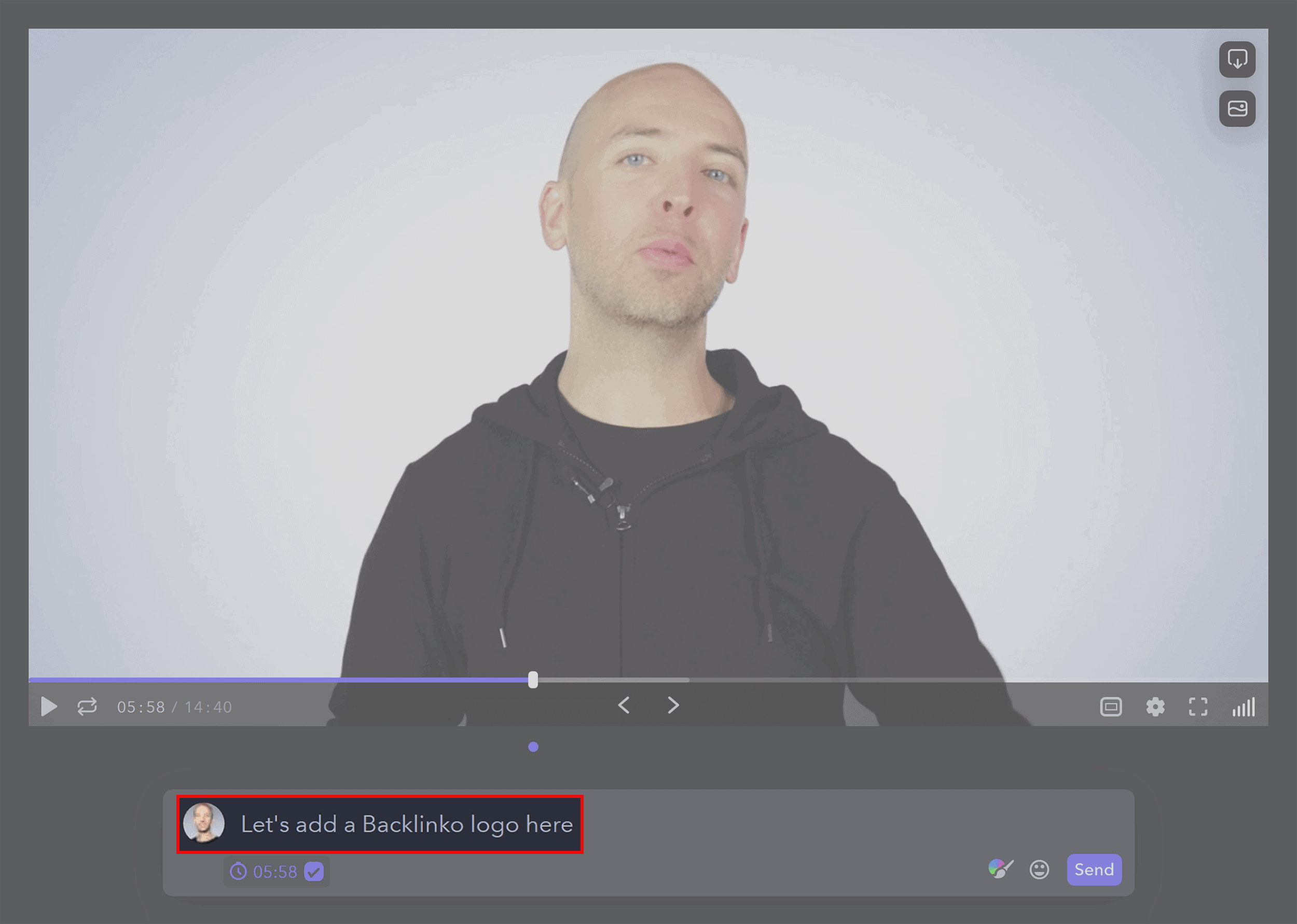 Amazing.
Pricing: $17-$44 per month
My Favorite Feature: "Notifications"
Get a list of all uploads, comments and changes since you last signed in.
The Bottom Line
If you work with a video editor (or a team), there's no need to email edits and DropBox links back and forth. Frame is 100x more efficient.
Crunch your images and improve website loading speed.
Kraken is an easy and effective way to reduce the file size of your images… without sacrificing quality.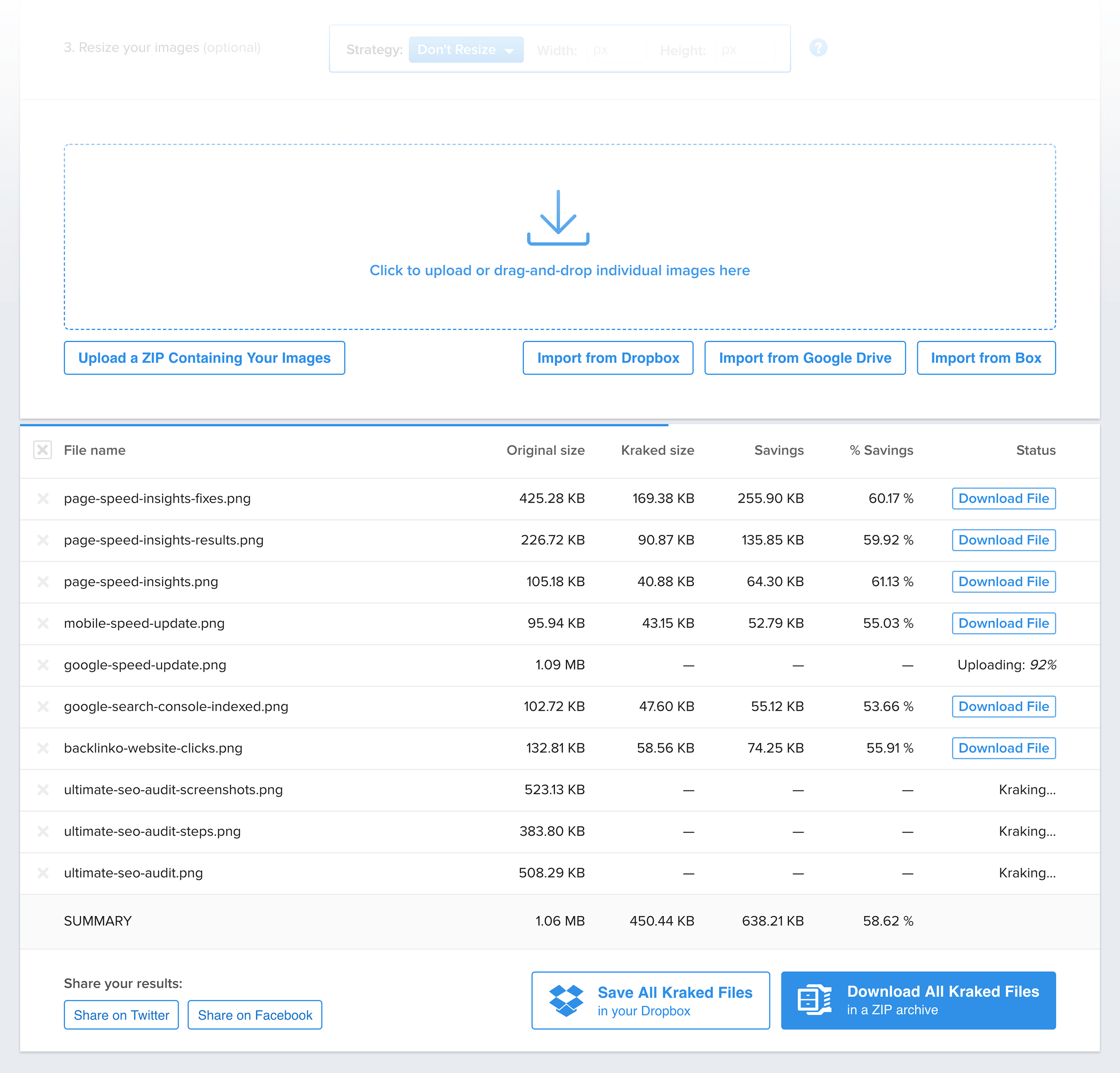 In fact, we use Kraken at Backlinko and it's made a huge dent in our pagespeed.
Pricing: $5-$79 per month
My Favorite Feature: Kraken WordPress Plugin
Automatically crunches any images that you upload to your WordPress media file.
The Bottom Line
There are a million image optimizer tools out there. And I've tried them all. In my experience, Kraken is the best.
Track your content marketing campaigns for free.
Google Analytics is a must-have tool for any content marketer.
Why?
Because it tells you pretty much everything you need to know about your content marketing campaigns, including traffic sources, landing pages, user engagement metrics and more.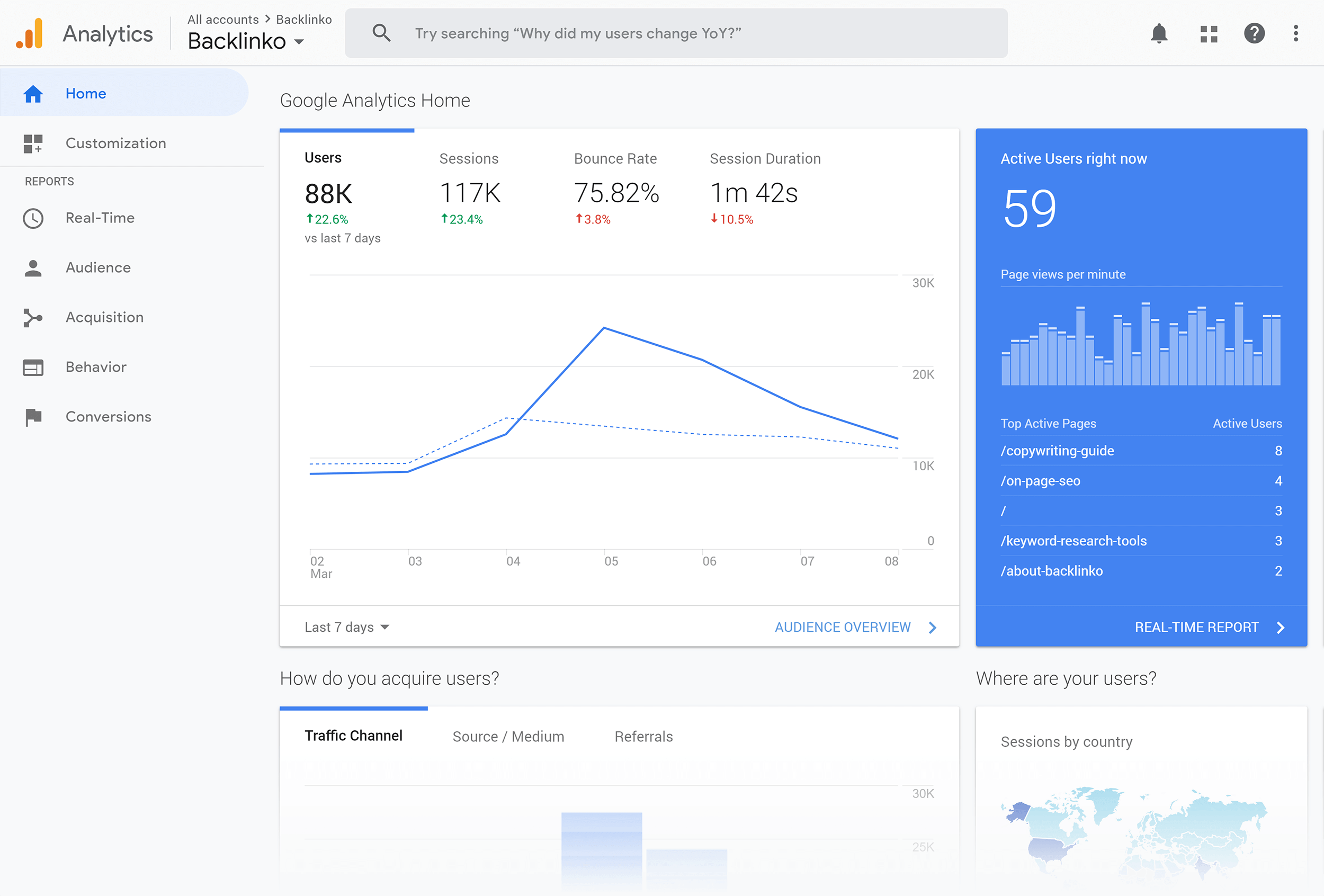 That way, you can tweak your content strategy… or double down on what's already working for you.
Pricing: Free
My Favorite Feature: Referrals
This report shows you which sites (outside of the usual suspects like Google and Facebook) are sending you the most traffic.
The Bottom Line
If you're not using Google Analytics, you're missing out on a treasure trove of data.
Email outreach made easy.
If you want to promote your content with outreach you can probably do just fine with a simple Gmail account. But if you want to scale outreach? That's where a tool like Mailshake comes into play.
It has a ton of features (like campaigns, templates and team collaboration) to help you send personalized outreach emails at scale.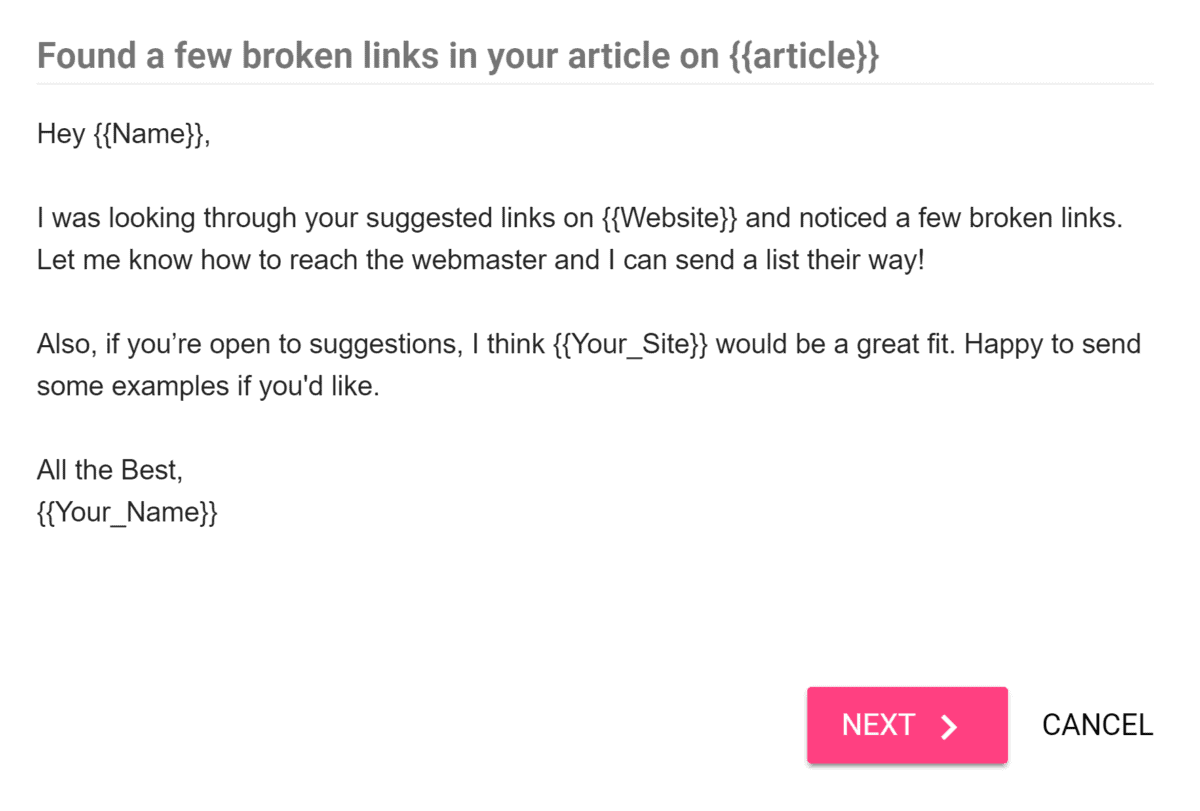 Pricing: $29-$49 per month
My Favorite Feature: "Extensions"
Integrate Mailshake with about a dozen APIs, including Google Forms and MailChimp.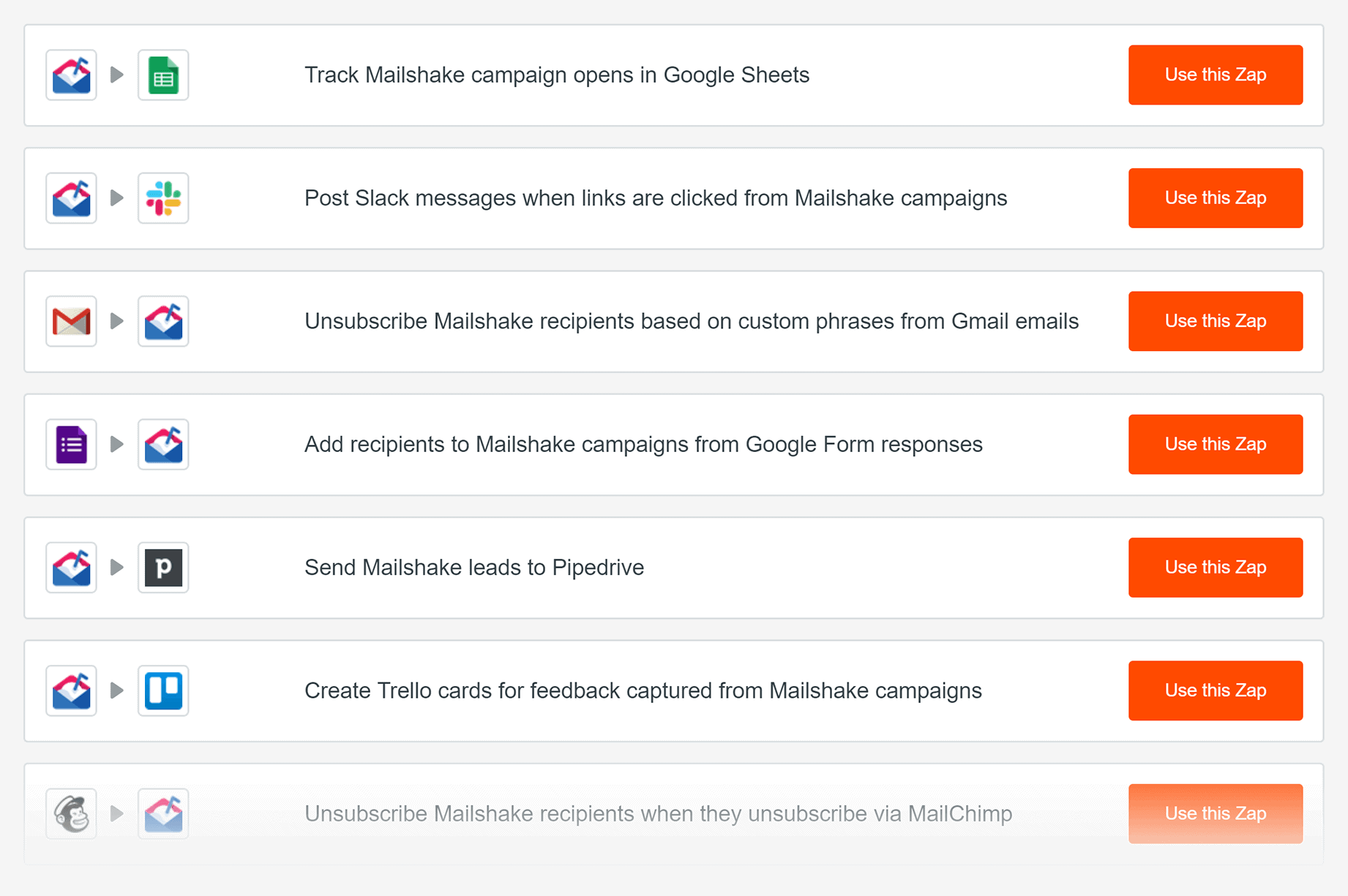 The Bottom Line
Mailshake is a simple yet powerful outreach tool.
Make awesome-looking social media images in a snap.
Need an easy way to create custom visuals… without Photoshop?
Snappa is for you.
With Snappa you can grab one of their templates and customize it to fit the look and feel of your brand. Nice.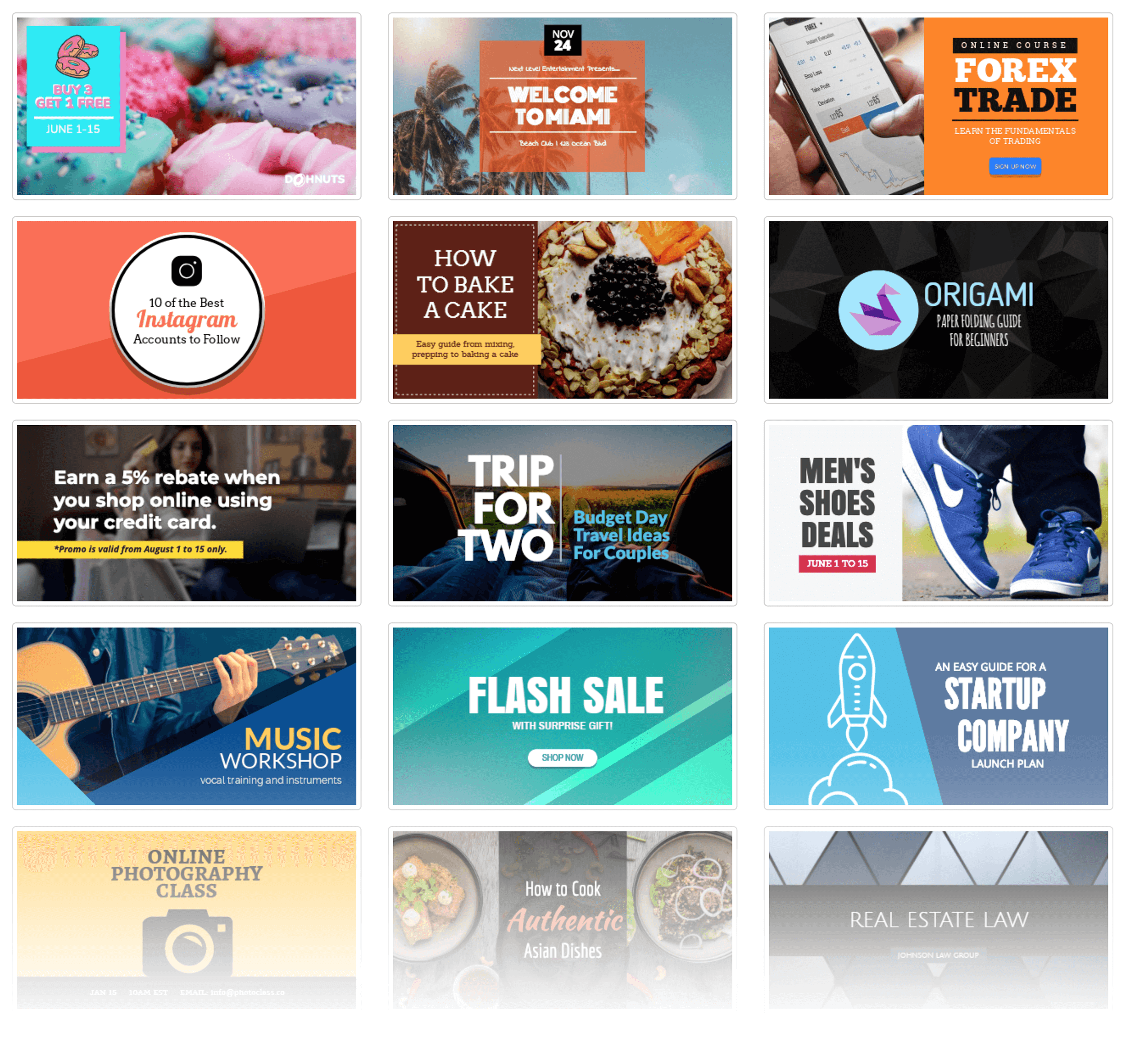 Pricing: $10-$20 per month
My Favorite Feature: Template Graphics Sizes
Work with images that already have the correct image sizes for Facebook, Twitter, LinkedIn… even Soundcloud.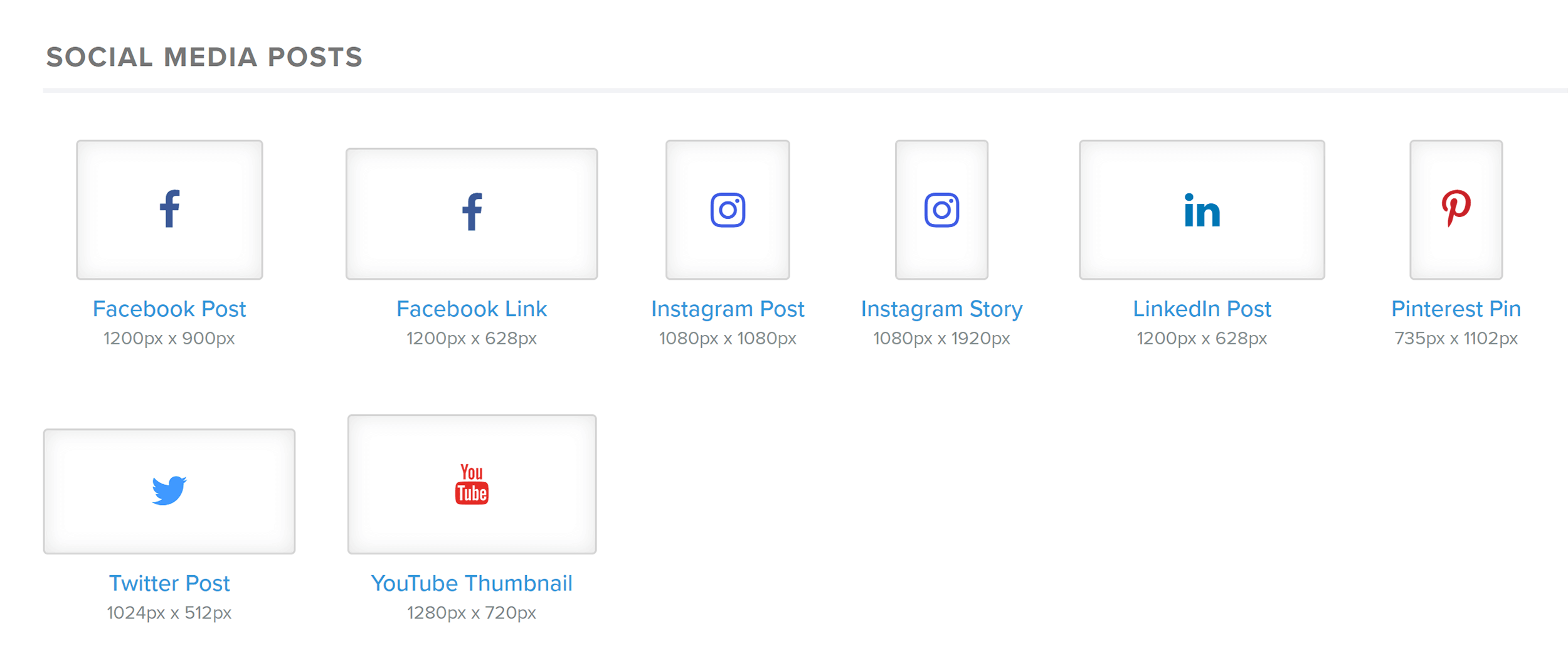 The Bottom Line
Snappa is a great tool for creating social media images without needing graphic design skills.
Did I Miss Anything?
There you have it: my favorite content marketing tools.
Now I'd like to hear from you:
Which piece of software on this list is your favorite?
Or maybe you have a great content marketing tool that I didn't include here.
Either way, let me know by leaving a quick comment below right now.